Designing the next generation of self-storage is here. Storage condominiums are gaining in popularity due to the soaring cost of housing, lack of third or fourth car garages, and strict CC&R's. Self-storage condos are a good solution for those looking for more space and are designed and built with ease of use and ownership flexibility in mind. Unlike traditional self-storage where individuals rent space month-to-month, storage condos are multi-unit buildings that can be sold to individual buyers who are looking to use these units for self-storage of RV's, boats, classic cars, or to create a man- or woman-cave oasis.
The Self-Storage Condo Concept
The concept of self-storage condos is similar to traditional residential condominiums. Commercial real estate investors and or landowners looking to create self-storage take a parcel, work with an architect to develop a condo complex that offers a mix of amenities to its owners. Storage condos can be purchased individually, and owners then pay dues to maintain the facilities much like an HOA. Imagine owning your own self-storage condo as a real estate asset instead of paying monthly rental fees that could become costly over time. Storage condos are great for owners of RVs, boats, and other vehicles, and investors. Individuals are attracted to this self-storage concept because of the design and the opportunity to own rather than rent.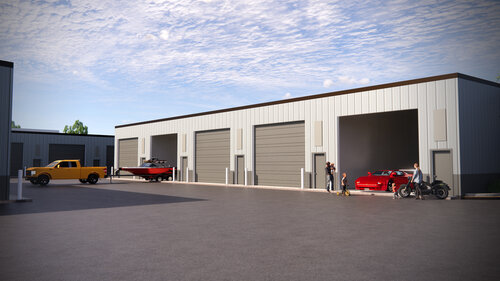 Self-Storage Design Features
Typically, self-storage complexes can be designed and built on approximately 6-10 acres of land and can range in size of approximately 100 K sq ft with 85 units of storage on up to 150 K sq ft and 130 units of storage or more depending on the size of the parcel. Similar to standard self-storage units, pre-engineered metal buildings, a supplier of steel is brought on board during the design process, and we partner with them to design everything above the concrete floor. The architectural designs typically include a modern and attractive look to the exterior of the building.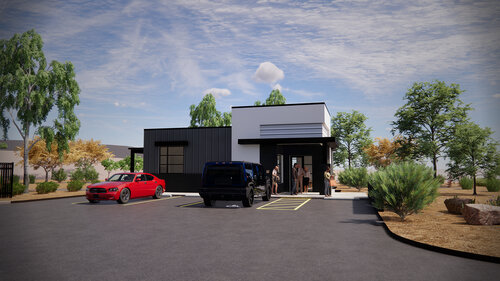 Unlike traditional storage facilities, storage condos offer an array of amenities to their owners. The units are typically climate controlled with heat and air condition and are well insulated and outfitted with electrical services. A clubhouse serves as a place to mix and mingle with other owners or visiting guests. The clubhouse features a kitchenette, TV, couches, and restroom facilities. Also, facilities offer 24-hour access and security. Typically, storage condos are located in areas of town near major thoroughfares, or freeways for easy access.
 Design Expertise
Our team specializes in designing large self-storage condominiums for personal use. Currently, we have been working on designs for self-storage condos in Chandler, Arizona, and Boise, Idaho and we have the capability to work and design anywhere across the United States. Also, we design commercial buildings, industrial facilities, and warehousing. Contact us today at 208.884.2824 to talk about your next big idea and how we can work together to bring your project to your community.