During this past year, I have been working as an architectural intern at EVstudio. During this time I have had the incredible opportunity to work on a wide variety of projects with many of the incredibly knowledgeable Architects and Engineers at the firm. This experience has helped me a lot when it comes to designing my projects for my studio classes at Montana State University. This past semester was the final semester of my undergraduate degree, and my final project assignment was to design a hybrid building with the intent of revitalizing downtown Helena, Montana. My partner, Makayla Murphy, and I worked together in a studio class to create a phased project that would create an entertainment hub to attract more people into the downtown area. Our goal for this project was to entice people with the architecture and the program within the buildings as well as create buildings that are feasible to be constructed. We both pulled from our experiences during our internships to accomplish the latter half of our goal and I reached out to the architecture team at EVstudio to get input on the project.
Our final studio class buildings consist of three phases. The first phase is intended to bring in revenue to help fund the following phases. It consists of a large indoor children's playground, laser tag, a rock-climbing gym, cinema, and various shops and restaurants. Helena gets very cold and has a lot of snow for a large majority of the year. By providing a large amount of entertainment and shopping opportunities in the same building, the patrons can enjoy the warm environment while moving between shops and letting their kids get their energy out while they browse. This new development will attract a lot of people to this area of Helena for work and play.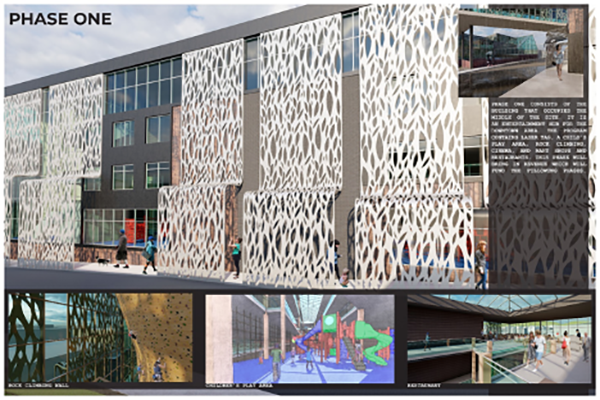 Phase two consists of an apartment complex and a grocery store. This allows for easy access to all that downtown Helena has to offer and the hiking and biking trails that run through the city and into the mountains.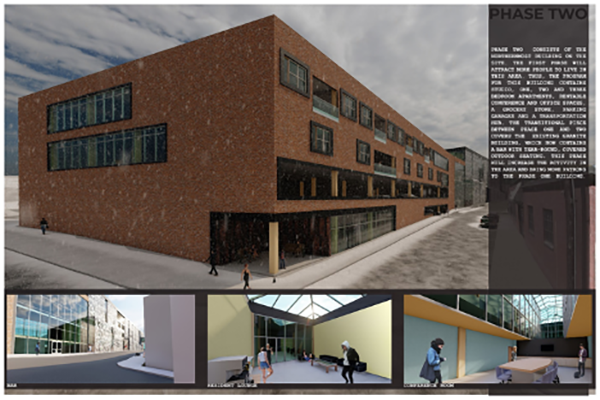 Phase three provides childcare and an office for Mosaic Architecture, whom we were partnered with, for the project on the third and fourth floors. Childcare is very sparse in Helena and is something that was highly requested by the people we talked to during our site visit. We also included a learning greenhouse with the childcare to help teach them the skills needed to garden as well as how to prepare the food to be eaten.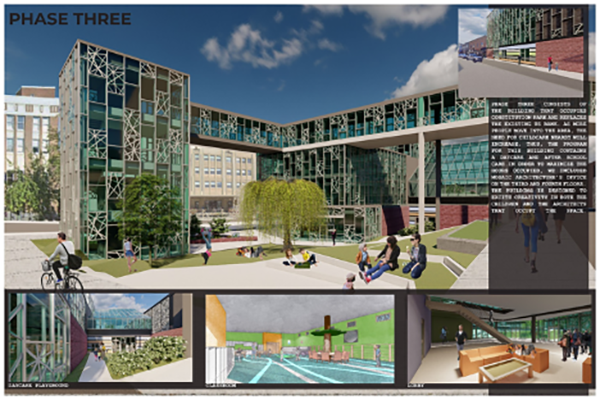 This project had the largest scope that I had ever tried to tackle during a studio project and the experience and advice that I gained through my internship and reaching out to the team at EVstudio helped push my project into a higher level of design. I feel that we provided a building that, if given more time, could be a viable option to add to the experience of downtown Helena.
To learn more about the EVstudio Internships, contact us.