The following article was written for the Colorado Urbanist Journal from CNU Colorado, an organization advocating new urbanism and smart growth principles in Colorado.  EVstudio's Sean O'Hara serves as the Vice Chair for CNU Colorado and EVstudio's John Olson serves as the Treasurer. SUSTAINABILITY BIKE TOUR COLORADO SPRINGS, JUNE 26, 2010 Essay by Frank Kinder, USGBC Colorado – SoCo Branch & John Olson, CNU Colorado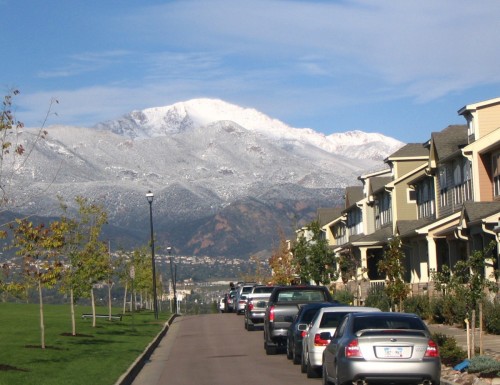 This past June, CNU Colorado teamed with APA Colorado, AIA Colorado, USGBC Colorado-Southern Branch and Bike Month in a Sustainability Bike tour called "Hop on Your Bikes, Bike on Your Hops". The Saturday event was a leisurely tour of Traditional Neighborhood Developments, LEED Certified buildings, community gardens, and local sustainability-focused restaurants and pubs. Around thirty Front Range participants met with developers, proprietors, and designers at each location, getting an in-depth view of the plans and visions of some of Colorado Springs' most urban environments. As proponents and practitioners of new urban concepts, for many it was the first look at some of our city's own local examples, and a chance to hear the challenges and successes of changing the norm with creativity and innovation. The tour began in Spring Creek, a neo-traditional neighborhood originally planned by Duany Plater-Zyberk (DPZ), and culminated at a local brewery for drinks and discussion. Initial commentary was provided by Spring Creek Developer, Mike DeGrant; Colorado Springs City Planner, Ryan Tefertiller; and influential local architect Mark Tremmel.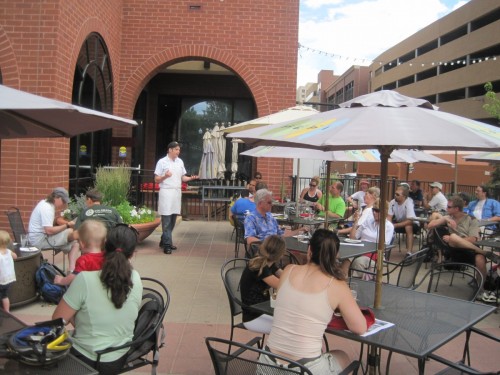 Being a tour of sustainability, attendants left their cars at home and hopped on bicycles to see the city at the pedestrian level. Upon leaving Spring Creek, the group bicycled past the Colorado Springs Utilities Water Lab, a LEED-Gold building, and Colorado Springs Housing Authority Neighborhood – Rio Grande Village, en route to downtown Colorado Springs. Once Downtown, we visited City Staff's new urban garden and then stopped to dine at Nosh, a hip downtown eatery featuring all local produce and foods. Here, Celebrity Chef Shane Lyons discussed experimental foods, buying locally, eating seasonally, and how their downtown location adds panache and vibrancy to the local food culture.
After lunch, the tour continued to Colorado College's new
LEED-Gold building
– Cornerstone Art Center; the Historic Old North End Neighborhood; Colorado Springs' First Co-Housing Neighborhood – Casa Verde and Colorado Springs' first new urban neighborhood – Lowell, which includes an awesome reuse of the Lowell School and new construction promising to be another foundation of a successful urban core.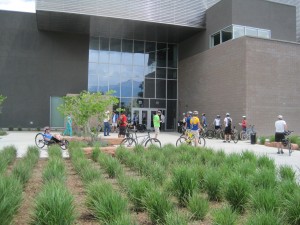 The ride finale concluded with a fabulous tour of Bristol Brewery, our community's beer anchor and sponsor of numerous events. Bristol, started in 1994, creates community ales, composts brewing waste with local farms, and provides some of the best beer in the region, all while being the local's choice. This inaugural event proved to be a hit with professionals and families from around the region, and we hope to repeat the ride again visiting different new urban locations, green buildings, and growing examples of sustainability in the future.