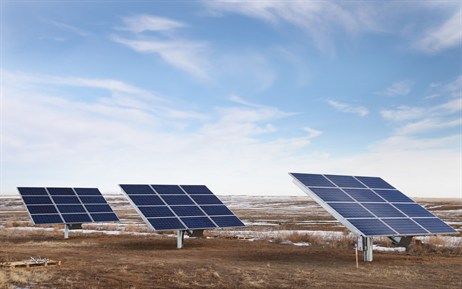 Just over a year after switch-on and with two global awards under its belt, the longest solar-powered toll road in the US is generating heightened interest in highway applications of alternative energy. The E-470, which loops around the eastern perimeter of the Denver metropolitan area in Colorado, won the International Bridge, Tunnel and Turnpike Association (IBTTA) President's Overall Award for Excellence at its September 2013 Annual Meeting in Vancouver, Canada.
One of two solar-powered tollways in the State (see below), it emerged triumphant from a shortlist of four earlier-announced toll excellence category winners, having come top in the Social Responsibility class. Commented IBTTA executive director and CEO Pat Jones: "This year's submissions were particularly innovative."
The project which has a maximum generating capacity of 707.3kW, has been operational since June 2012 and comprises a portfolio of 22 installations along a 27km north-south section of E-470 in Aurora, running south from Denver International Airport. It is run by the E-470 Public Highway Authority, a political grouping of three county and five municipal administrations.
…more…
Another issue was the mounting of the solar arrays. For most of these Martifer designed a variant of the 'top of pole' solution typically deployed for domestic systems in order to lift the panels above ground-related hazards. Their fabrication incorporates helical piers which were designed by Denver-based EV Studio.
These are steel shafts, typically square, terminating in large screws. Used as deep foundation supports in challenging terrain, they transfer the load of a structure through unsuitable soil to a stronger and more appropriate base lying deeper in the earth.
The company's director of structural engineering, Jim Houlette, told ITS International: "While pile-driven posts are faster and cost effective, helical piers may be needed in poor soil conditions. They also provide higher downward and uplift capacities.
"Those along E-470, where the open topography increases exposure, have to cope with higher snow and wind loads than they would in other locations."
Read the full article by David Crawford on www.itsinternational.com here.