The term "tiny home" emerged as a buzzword a couple of years ago, on the heels of the McMansion era, as a few well-to-do people began downsizing to minimal quarters. Tiny homes are now a burgeoning movement here in Denver, where the larger architecture community is aware of it — but perhaps with different motives than those that popularized the movement nationwide. Homelessness (and the increasing Denver homeless population), the criminalization of poverty, and a lack of affordable housing are a few of the primary political and social issues that have galvanized volunteers into tiny-home-construction-action. Based on the premise that providing someone with a small home is more affordable than the less-desirable options of either a) putting them in jail, or b) providing services to them while they are living on the streets, organizations like Denver Homeless Out Loud and Architecture for Humanity have begun building and planning out the first tiny home community in Denver. Little Denver is tentatively located at the junction of Court Pl and Washington St in the Five Points neighborhood.
The tiny homes are based on designs by Backyard Bungalows, who worked with the Oregon Building Department to create 27 tiny code-compliant homes for Opportunity Village in Eugene, OR. With volunteer labor, the homes cost $2,500 to build: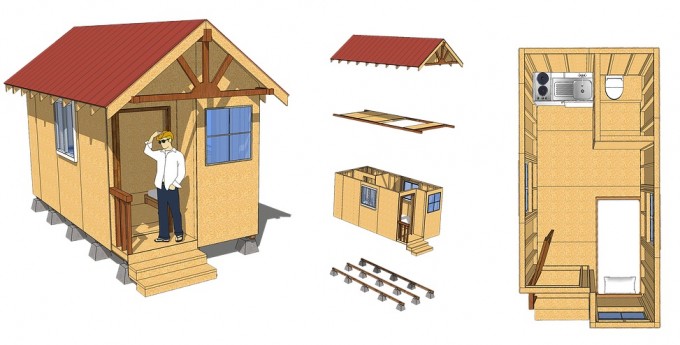 Tiny homes finished and/or under construction in Denver, CO: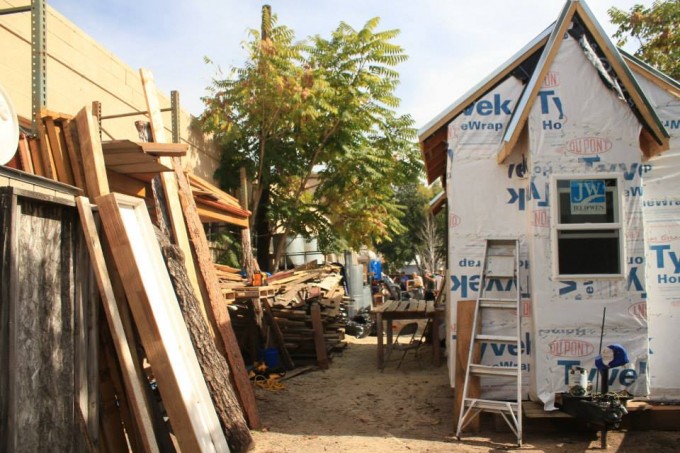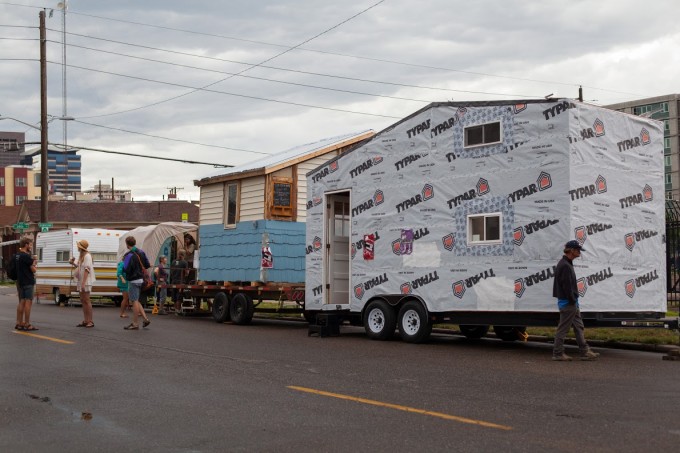 This year, DHOL also participated in the Biennial of the Americas with an interactive exhibit entitled "The Struggle for Space: Homelessness and the Politics of Dys-Appearance in American Cities." Volunteers built a Conestoga Hut — a simple micro-housing unit designed by Community Supported Shelters in Eugene, OR — within the span of 2 hours, using inexpensive materials:
For further information or to get involved with building tiny homes in Denver, e-mail adam.buehler@gmail.com (DHOL) or afhdenver@gmail.com.