This year we have had such an early spring that our deck design is already in full swing. Since all the snow has melted from decks, balconies, and patios – it has come time to re-evaluate our outdoor living space. With the beautiful Colorado weather, it is important to design a space that can be utilized during almost every month of the year to take full advantage of the benefits each season has to offer.
Throughout the design process you need to ask yourself a few simple questions:
How do I want to use this outdoor living space?
Are you going to entertain, grow a garden, or just need a small sitting space?
What are the most important seasons for me?
Is it more important for you to sit under a covered deck to escape the rain, or to have the maximum amount of sunlight possible shine onto your deck and through your windows?
How does my existing house and site fit into the design?
Do you have a steep grade at the proposed location or are you close to the property line?
As a structural engineer, I love finding solutions to the third question whether it is redesigning an existing deck to fit the owner's needs or starting from scratch. Below is a picture of an existing deck we recently redesigned to accommodate a cantilever with a very short backspan and strict joist spacing requirements from the decking manufacturer.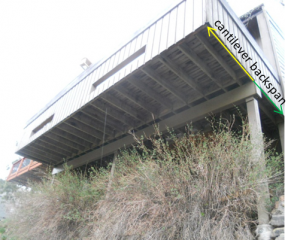 Are you thinking about building a cantilevered deck? A good rule of thumb for cantilevers is 1/3 the total length of framing member. However, every design is unique and we will always find a solution to your design challenge.
If you have the itch to switch your outdoor living area, stop by sometime to sit down with our architects and engineers to find the right solution for you!