One of the most interesting things about working on a renovation is learning about how buildings work, especially buildings that were completed in past eras of construction.  At the University of Denver Boettcher Center Auditorium, the original building's interior was largely sheathed in wood, hiding its massive concrete and cmu skeleton.  Our design separated the singular auditorium space into three smaller classrooms by subdividing from the center-out…allowing most of the wood sheathing to remain.  In the lower classrooms, the existing outer walls will now become featured planes of color and warm texture as seen in the image below.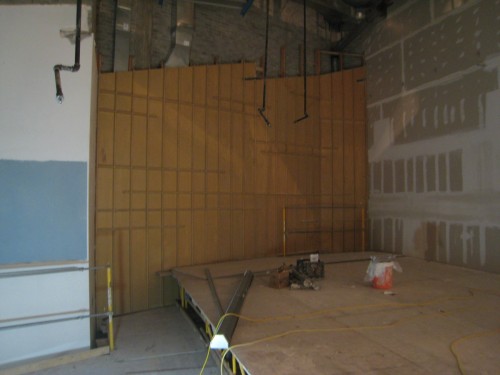 With the ceiling removed in the image below, we can see the various systems temporarily exposed to view.  The close proximity of the waist-high catwalk access from the mechanical mezzanine is obvious, plus the new soft spiral ductwork and vav box can be seen emerging from beside one of the massive re-inforced concrete beams supporting the roof deck.  What really interests me in this picture is the existing hvac system.  In a building like this one with solid masonry walls that are sheathed tightly on both sides, how do you get your air from the big unit upstairs down to the corridors without a clumsy chase botching up your clean hexagonal interior?  The answer is in just a 1-1/2″ gap in the furring.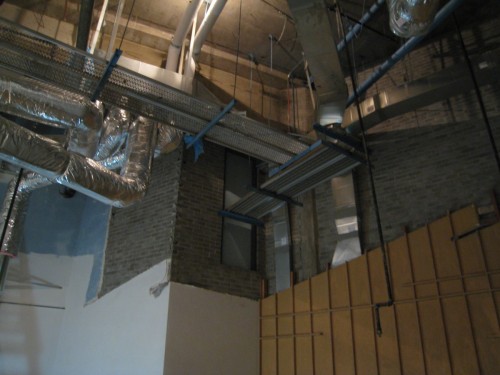 Looking at the photo we can see how the large supply duct on the right starts out with a conventional cross-sectional area but is flattened to 1-1/2″ x ~20″ in order to slide down the void created by the vertical 2×2 furring behind the sheathing.  It's a pretty extreme solution, and one we wouldn't have seen without peeling back a few layers and taking a peek.