As EVstudio moves to full integration of the 3D BIM (Building Information Modeling) software Revit we are doing more and more basic renderings as a matter of course. Currently all architectural projects are completed 100% in Revit. Our structural department is gearing up and is currently completing about 75% of their projects in Revit. With each project our staff becomes more efficient with the software which allows us to give you more service.
Below is an early rendering we completed as part of the design process for a modern home we are designing for a west coast client who is relocating to the foothills just west of Denver. This rendering clearly shows the design concept, locations of different materials and, of course, massing. As an additional service we can map the exact materials to the model in order to get a true feel. However, for most clients the basic rendering with accurate material types is sufficient to understand the material vocabulary of a project.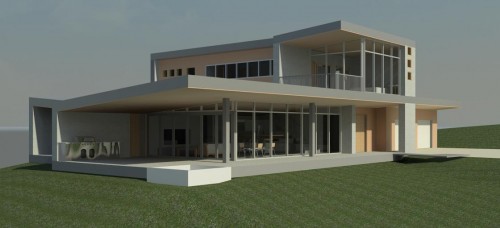 This home is designed for optimal solar orientation with the long axis east to west. The main level's roof overhang is designed to provide maximum shade in the summer while allowing direct sunlight in the winter. There is also an east/west mass wall as a center spine with an integral fireplace. As you have already surmised, this will allow the heat of the fire to build into the mass wall and really radiant out a steady, warmth to the great room and recreation room. This will go a long way in modulating the temperature of the interior spaces. There are no windows on the north side. The master bedroom on the upper level is situated so that the windows can be opened and create natural convection from the lower level through to the upper to help purge the home of excess heat.