EVstudio's first project for the Copperas Cove School District was recently featured in the Killeen Daily Herald. View the full article.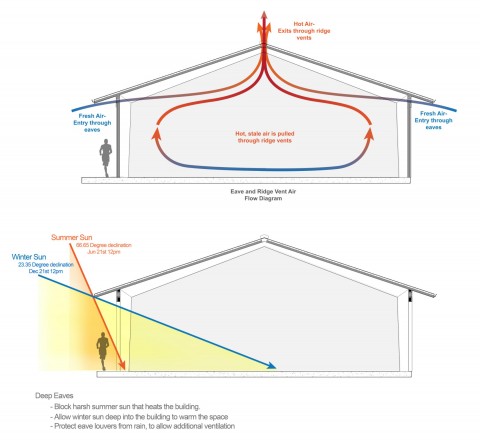 Thermal Dynamic Strategies Diagram
The article outlines the new relationship with the Copperas Cove ISD as well as the points expressed in EVstudio's first schematic presentation of the project. Because the new 4,000 sqft metal building will not be serviced with Air Conditioning, the thermal dynamics are very important in making the space as comfortable in the summer as possible. The above diagram was presented to show what a 4′ overhang would do in shading the building in the summer. Keeping direct sunlight off a building is the number one key to reducing its heat gain.
Another strategy to make the space more comfortable is to increase the ventilation and air flow through the space. 12 ft high garage doors will go a long way in providing airflow to the space. When open the doors provide over 40% opening to the face of the building. This is an incredibly cost-effective solution to ventilation. Another system that will help the ventilation are louvers positioned in the areas of the elevation that do not have openings. These louvers along with mechanical ridge vents will create a suction effect that will lift hot air up to the ceiling and out of the space.
After presenting the idea the athletic director said, "I think you have a good common sense plan." That is great in our book.