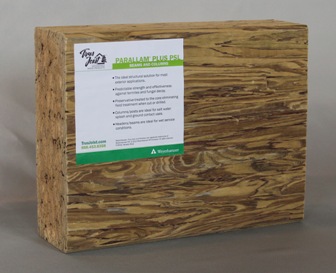 Weyerhaeuser Parallam Plus lumber uses Wolman brand preservative to extend the service life of timber beams in weather exposed applications.  Untreated wood is susceptible to fungal decay (rotting) when exposed to the elements.  Weyerhaeuser's fabrication methods ensure that preservative reaches the core of the timbers and have limited 30-year warranties to give designers a comfort level with the service life of the members.
Recently I was asked to design a modern looking timber framed mail box kiosk for a high end housing development in Evergreen Colorado. When I was unsuccessful in developing the loads in standard sawn timbers (within the slender profile the architect desired) I looked at using Parallams, which have a significantly greater flexural capacity. Because this mail structure will be exposed to a "severe" category of wreathing I chose to specify the Wolmanized parallams to help ensure a longer service life of the critical framing members.
An important tip for a structural designer to keep in the back of their mind when designing with Parallam Plus timbers is that while they can be cut to length, modifying the width or depth of the beams will void the warranty and compromise their performance.