This article was provided by Vince Kenney and published recently in Serenity Magazine:
What is a LEED Certified Home?
The increasingly well-known acronym LEED stands for Leadership in Energy and Environmental Design.  This third-party certification program run by US Green Building Council ensures high performance and construction of buildings considered sustainable.
LEED-certified homes, also known as "green" homes, have greater energy efficiency, use less water, perform better environmentally and are healthier for the people that live in them.
Think of your home as a box of cereal and LEED certification as the nutrition label on it.  With the label you can clearly measure the health, efficiency and sustainability features through a third-party verification process.  A green home (versus a standard built home) is much more efficient with regard to energy, water and natural resource consumption, creating less waste and a healthier lifestyle for your family. LEED uses a point-based certification checklist with measurable results.
The quality of your indoor environment is often 2-5 times worse than the air you breathe outdoors.  A LEED-built house is designed to improve the indoor environment by minimizing the use of materials with toxins and pollutants.
Energy Efficiency:  The average household spends $1600-$2000 each year in energy bills.  With a LEED- certified home you can expect to save more than 30% in your energy bills.
A green home uses innovative strategies to reduce water use and creative ways to reuse water.
Location, Location, location is the key to a successful green home.  Selecting a site that is close to schools, shopping, work and transit are as crucial as the use of natural resources such as sun exposure.
LEED homes avoid destructive practices during site development by considering natural habitats, assessing land erosion and using thoughtful landscaping practices.
LEED homes carefully track material selection ensuring that materials are sustainably harvested, recycled, reclaimed and responsibly obtained when possible.
The four levels of LEED certification – certified, silver, gold and platinum – have resulted in unintended but powerful change in the green building industry.  A green home often requires some additional upfront cost, but with tax incentives and energy cost savings, these costs can be balanced long term.  With proper design and lot selection you can significantly limit the additional costs.
Incentives from the federal government can offset up to 30% of specific expenses related to installing renewable energy systems.  Caps on incentives have been lifted for geothermal heat pumps, solar hot water, small residential wind turbines and solar panels; and the allowable amount for energy-efficiency improvements such as air sealing and insulation has been increased to $1,500.
Vince Kenney, of Tomskin has used the LEED for Homes rating system to develop and design his Mountain Modern Home, working with EV Studio's green design experts. Currently, Kenney is marketing his versatile plan for two different site-specific homes in Jefferson County – 3009 Royale Elk Way and 3039 Royale Elk Way in Evergreen. The design of a Mountain Modern Home is easily adaptable to nearly any site because of the ability to rearrange or manipulate the elements of the home. Each room or element of the home has been designed so that one room could easily be used for either a bedroom or living room depending on the needs and desires of a client.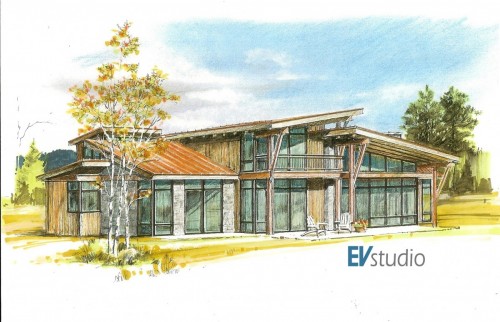 While many homes today incorporate "green design," few actually approach holistic sustainability. Local builder, Vince Kenney, has a vision on the verge of reality that is the culmination of the holistic understanding of sustainability, the future of the building industry.