During these tough economic times, many of us are considering remodeling or putting an addition onto our existing home in lieu of purchasing a new one. When considering an addition to a home space constraints are always a concern. This is especially true in many of the historic Denver neighborhoods where property lines are so close to houses the only real way to add square footage to a house is to build either up or down.
Many older homes in the Denver area are built on shallow crawlspace foundations. Adding a second story to a home, often called a "Pop-Up", is quite disruptive and often displaces the family living there. For this reason, home owners often consider constructing a full basement addition or digging under their existing crawlspace to add foundation walls below the existing crawlspace foundation (under-pinning) to create a full basement which then can be finished into living space.
When considering this option it is important to consider the impact that your excavation may have on your neighbor's foundation. While on inspection this last winter I took the photo shown below. In this example a completely new home is being built between two existing houses. What concerned me is that there was no shoring installed to protect the adjacent existing homes. Shoring is a general term the measures taken to protect the soils supporting structures near a new excavation or to keep steeply cut soils from spalling out.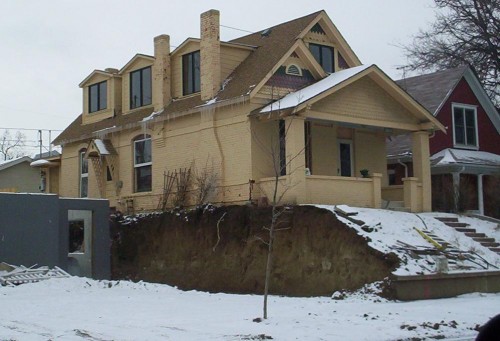 Many home owners (and even quality professional contractors) do not fully understand how foundation loads are distributed through the soils beneath a house. Most homes are built on a spread footing foundation system. The load from a house travels through bearing soils at a 1:1 slope (45 degree angle). When an excavation is dug for a new or under-pinned foundation wall, additional soils must be removed so that workers can maneuver around what they are building. This is called "over excavation". Even though your foundation may not be any closer to the property line than it was before often the over excavation will go completely to it. The illustration below shows how loaded soils can be disrupted during a deeper excavation.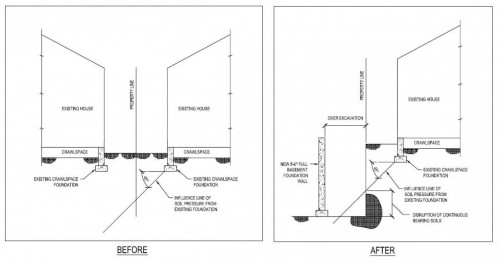 When loaded soils are disrupted there is a real chance that the soils suddenly collapse if precautions are not taken. If the scope of your project includes a deep excavation, a professional engineer (such as EVstudio) should be contacted for shoring design. Properly designed and installed shoring will prevent soils from collapsing and lawyers from being telephoned.
There are many different shoring types. The most common is the cantilevered concrete pile. Most of us have probably seen this type of shoring while stuck in traffic during highway construction projects. The photo below shows properly installed cantilevered concrete pile shoring installed at a residential basement addition project. This shoring protects not only your neighbor's home, but the workers completing your project.