I recently had the pleasure of meeting with a gentleman who was getting started on designing and building a new vacation home in Alamosa County, Colorado. He has built a home or three in the past so this isn't his first rodeo. He is a client who has thought a lot about the home he wants, the spaces he needs and the adjacency of spaces. He has also started the process of getting the well permitted and drilled as well as septic and a few other items he needs for his somewhat remote site.
This is what he provided in terms of program: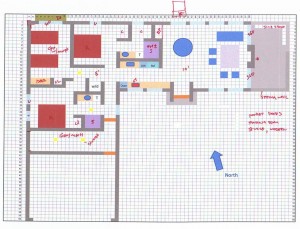 As you can see a lot of thought has already gone into the layout. The footprint of the home is also an important piece of the design as it targets a specific square foot number that he wants to stay within. With this sketch we were able to discuss the layout and identify the various aspects of the home. One of our big questions when presented with this level of detail from a client is to ask them what they like and more importantly what they don't like about the floor plan. This helps us identify areas that need improvement and, just as importantly, areas that function quite well for the client's specific needs.
My first step will be to draw this floor plan architecturally and make sure that clearances, room sizes and other items pencil out when put to a precise scale and to also identify any building code issues that may arise.
As architects a good portion of our formal training is exploring the myriad of ways to approach a design problem and as a result we can take your specific approach and synthesize that into a great home.