EV Real Estate, the Real Estate affiliate of EVstudio, has recently listed a piece of property for the Evergreen based Blue Spruce Habitat for Humanity located on Floyd Hill right next to Ski Country Antiques.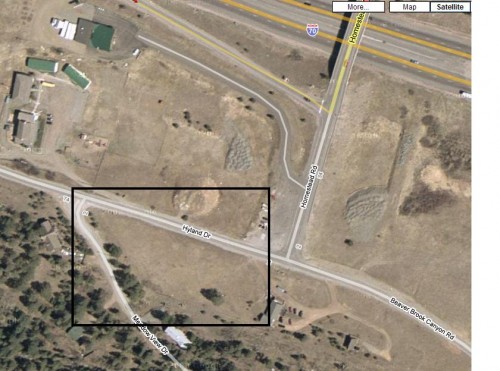 Originally planned for a resource outlet for Habitat for Humanity, the C-1 zoning allows for a wide array of uses including everything from  condo development  to restaurants and everything in between.
At my initial site visit, I wondered about the need for multi-family housing in the area, but the local community also seems to be in desperate need of restaurant, grocery and convenience/gas uses as well. Perhaps a mixed-use facility encompassing all of the needed functions in the area would be the highest and best use. Especially with the Clear Creek High school within 1 mile of the site, there certainly seems to be a number of possibilities.
The land is 1.4 acres and is highly visible to I-70, which makes it prime for tourist activity as well. Being adjacent to Ski Country Antiques, a popular tourist destination, also helps to drive traffic to the property. Clear Creek County, as of census 2000, has a population of 9300. However, with the direct visibility from I-70 and skier traffic in the winter, plus summer mountain visitors, this area has a potential to become its own landmark. The land is gently sloping and ideal for plenty of easily buildable square footage with ample parking. The land will require a septic system for sewage, and there is already an existing drilled well on the site.
Listed at $400,000, this piece of commercial property certainly has a lot of promise. If you are interested in this property, would like to look at other commercial properties, or would like to discuss commercial or residential development on your own property, post a reply, or contact us at any time and we would be happy to discuss that with you. The listing agent for this property is Dana Dalvit at EV Real Estate , and her direct number is 303-670-8360 . The listing can also be viewed on Realtor.com by clicking HERE.