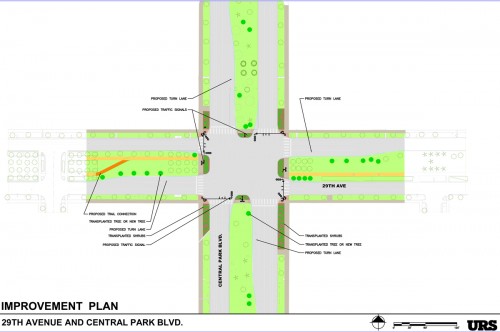 I thought that it was important to voice my opinion on the proposed signal at 29th Avenue and Central Park Boulevard in Stapleton. As a South End Stapleton resident I've walked through this intersection hundreds of times and driven through it thousands. One of the greatest challenges for a community like Stapleton is maintaining the pedestrian friendliness of the community while also accommodating the automobile. I'm sure that every Stapleton resident can think of intersections and roads that seem too car friendly and others that feel a little too slowed on their way home.
At 29th Avenue and Central Park Boulevard you have an intersection that to longtime Stapleton residents feels like the center of the community. When we arrived six years ago, the boulevard along 29th stretching east from the town center was a big part of the core. This is back when we only had one school and one pool and the trees were half as big. As the community has grown into multiple neighborhoods, there are more cores and activity centers. We are more connected to the surrounding neighborhoods and have many more options for shopping, eating, recreation and education. The downside is that the community is big enough that we need another access point on I-70 and a north-south arterial between Havana and Quebec. That has always been the plan for Central Park Boulevard and soon that will be the reality.
The Denver transportation planners estimate that the intersection will eventually handle 30,000 vehicles per day (more than double the current volume). To give you a sense for that, that's the equivalent of one vehicle through the intersection every 2.88 seconds for an entire 24 hour day. In reality it will be much more heavily trafficked during portions of the day. The only solution that's workable is signalizing the intersection. Otherwise it will be a traffic snarl and much harder for pedestrians to cross safely. With a traffic signal, there will also be walk signals.
I'll miss the old 29th Avenue and Central Park Boulevard intersection. But in reality its already gone and that was always the plan. Soon it will be the time for a signal, then it will also the time for using CPB to get to Northfield and the lightrail and before you know it, the time for accessing the neighborhoods and the high school north of I-70. Its an exciting time to be at Stapleton.
Sean M. O'Hara
Architect and Stapleton resident since 2005
BTW, its important to mention that this is just my opinion and doesn't represent the official opinion of the Stapleton CAB, CNU Colorado or AIA Denver, all boards that I'm on. You'll have to look to each board for an official position.