Carter John is a new housing development slated to break ground soon. This unique development is located at Vista and Spalding on the Boise Bench just minutes from beautiful downtown Boise, Idaho.  EVstudio and the team is excited to be the architect of record as well as the interior designer on this project. We are proud to partner with Tradewinds General Contracting Inc., a company that has been building in the Treasure Valley for over 40 years.
Incorporating both townhomes and apartment units into the design of this new community was a great opportunity to create a development featuring two complementary yet distinct housing types, unique design features, and amenities. The renderings feature seven townhomes totaling approximately 14,000 SF and nine apartment units totaling approximately 10,000 SF. This brings a total of 16 units of new housing to Boise.
Features and amenities
The seven plex townhome building will have a mix of units offering two bedrooms with two-bath units and a one-bedroom with one bath unit. All townhomes will feature an upper floor patio in addition to a garage located on the main floor of each unit.
The apartment complex, on the other hand, will feature a three-story building with three units of housing per story. The units will vary from two bedrooms with two baths and one bedroom with one bath units with private patios.
All the units will feature an open floor plan with upgraded finishes including quartz countertops, luxury vinyl tile, large pantries, ample storage, a full washer and dryer, modern lighting, and plumbing fixtures. In addition, a large, covered bike parking area has been incorporated into the development.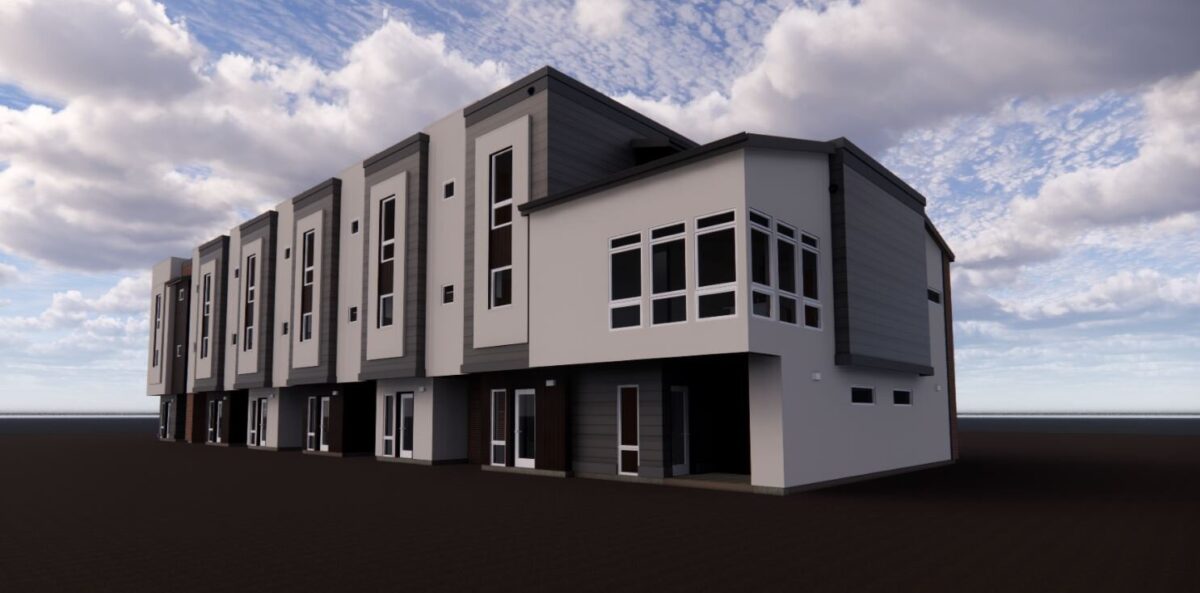 Exterior Finishes
The building's exteriors offer a modern design using a mix of shed and parapet or flat rooflines. Some of the architectural features include a mix of stucco, horizontal siding, vertical wood siding, and brick masonry on the exterior. Cantilevers provide added space to the second and third stories of the buildings. Metal railings were used to enclose the private patios. A unique feature of the apartment complex is the enclosed staircase tower that connects the units without having to endure the elements outside. This not only brings light into the building but also adds character to the building. And finally, a complementary exterior finish can be seen through the use of a contemporary color palette of white, gray, red brick, as well as stained wood siding.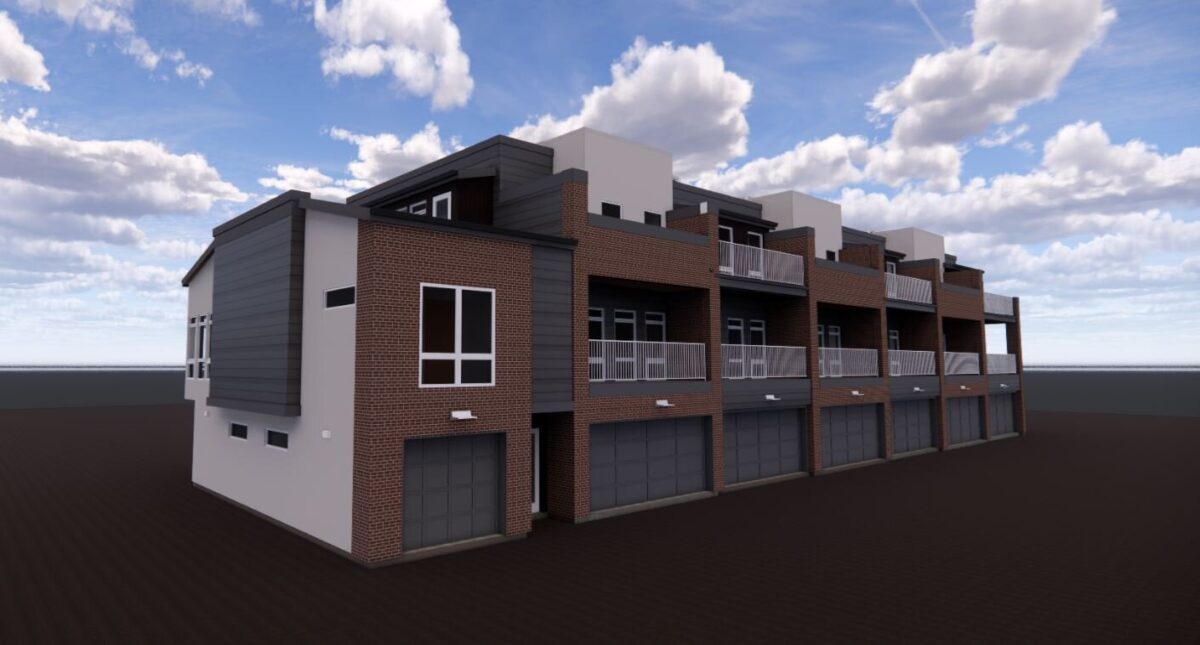 Collaboration
This has been a great project for EVstudio to collaborate with Tradewinds on. After spending over a year working on this project, we are excited to see this development break ground. We look forward to seeing how the community receives this fun yet modern architectural design into this neighborhood and area of Boise. Kristin Montgomery, EVstudio's lead on the project says "It was really fun to work with the team on this project and incorporate 3D design into the plans of this development even before it was built.  Steve Martinez has been a great client to work with on this project because he not only has a great eye for design, but he is someone who has years of building experience and knows what it takes to bring a great development like this to the Treasure Valley." Through the years, EVstudio has worked on a variety of mixed-use developments, multifamily apartment housing, and townhomes of various sizes across the country. Because of our team's breadth of expertise, we are able to apply not only our knowledge of architectural design but also bring our creativity to every project we work on.  This is important because not every development is the same and every client brings with them their unique vision to each project. Our goal then is to collaborate with them to not only bring a good architectural design to a project but help our clients bring their vision to reality no matter the concept or constraints of a site.  We look forward to continuing to design great townhomes and multifamily residential developments like this one in communities across the country.