When designing an accessible fitting room, remember to provide the required clear floor space along with a code compliant bench.  According to ANSI 803.4 and ADA 4.35.4, a bench is required in all accessible fitting rooms.
Benches must be 42 inches long, between 20 and 24 inches deep, and 17 to 19 inches high.  If the bench is not affixed to a wall, then back support must be provided.  Back support must be 42 inches minimum in length that extends from a point 2 inches maximum above the seat to a point 18 inches minimum above the seat.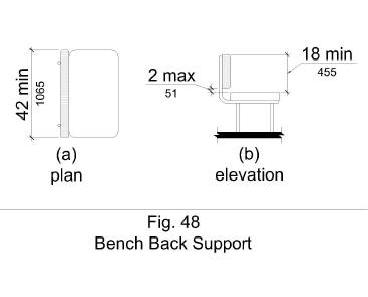 When a door swings into the dressing room, you must provide a clear floor space of 30"x48" positioned for parallel approach to the short end of the bench, along with a 5' diameter turning circle.