Nor is a contemporary style.  Current clients Erin and Matt proved these points to EVstudio.
When clients come to the custom home architects at EVstudio to design the most important physical object in their lives, the home that they and the ones they hold dearest to their heart, live and grow in, they come with expectations of how it will both serve their needs and their dreams, both function and inspire.  They want a home that will work for their lifestyle but also make them feel good when they experience it and represent to others what they want others to see in them.
All clients have ideas (of varying levels of clarity) about how they want their home to function and how they want it to appear, and we as architects help them define how this translates into a truly functional and beautiful home for them.  Sometimes the way they want it to function and the way it appears may present conflicts or challenges to work through, which is what architects, as problem-solving designers, enjoy creatively resolving.
At EVstudio, we pride ourselves in creating beautiful homes that fulfill the needs of our clients, not just what we expect our clients should need or the way we think the houses should look.  Many firms base their identity on a particular design style, but at EVstudio we are willing and able to produce designs in whatever style is most appropriate to solve the design equation at hand.
Occasionally we have clients who are very conscious of the patterns of their daily lives and have very well-defined desires of how they want their home to function, often because they are aware of the way their current house doesn't function.  Erin and Matt are such clients.
When they came to EVstudio via referral by another satisfied custom home client, Erin and Matt had already spent a considerable amount of time listing their desires for each space in their new home, how the spaces should relate to each other and the outdoors, "green" features and heating, ventilation and air-conditioning (HVAC) systems.  They had also assembled a Houzz profile of images that both guided and inspired the design of each of the rooms as well as the exterior of the house.  This greatly assisted the schematic design process for the architects at EVstudio.  Matt and Erin had such a thorough awareness of how they live and what they wanted that the design process was fairly straightforward but very detail-focused.
It became apparent that raising a large family is and will be the primary focus of Erin and Matt's lives.  They are very conscious of how poorly "open concept" home plans function with large families due to the need to separate activities visually and acoustically.  The interior and exterior images that most inspired them were of French Country style homes.  They liked interior images of well-defined, beautiful rooms that could also be very functional for more than one use, provide necessary separation and privacy but also allow some visual connection between spaces.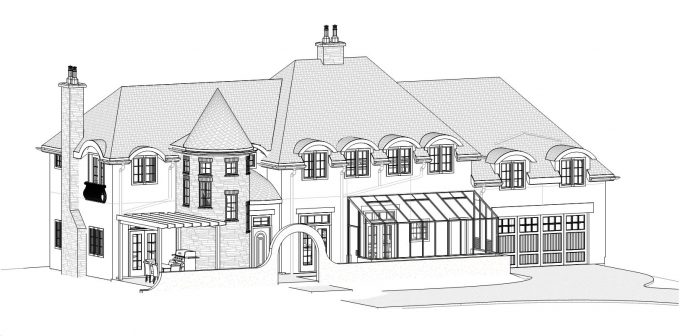 Matt and Erin are not unique in their realization that open concept plans do not function as well as many people expect they will.  The case for rooms is growing as people in open-concept homes realize the walls were there for a reason.  Open concept plans may have been oversold for more than a century as ideal for entertaining, but the absurdity of that claim is evident as builders even offer plans now with a second, "messy" kitchen to provide the separation most people want for their kitchen when entertaining.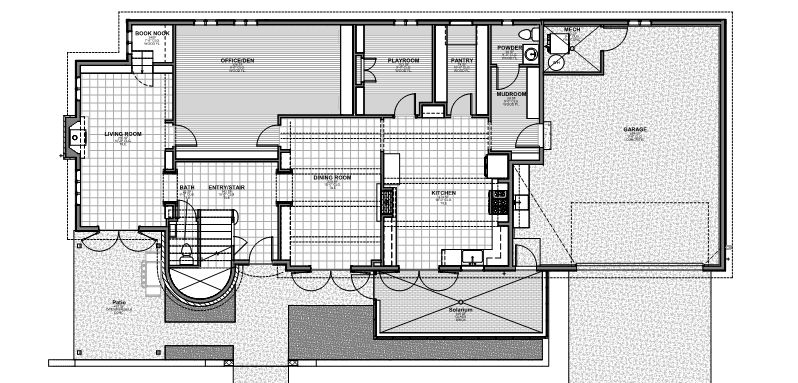 Ultimately we were able to design a house plan that fulfilled Matt and Erin's desires for adjacency, privacy, visual connection, and separation of public, family and private spaces, within the framework of a French Country style, creating a beautiful, functional and inspiring home for them.  We look forward to seeing it built and providing a good home in which to raise their family.