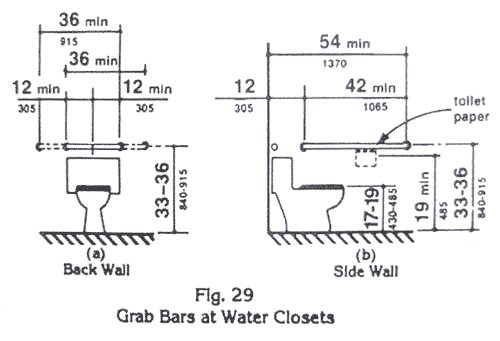 When working on multi- family architecture or any commercial project, it's important to be aware of the differing code requirements for grab bars in restrooms.  ADA requirements are always a minimum for accessible spaces, but depending on your jurisdiction, you may need to apply the more stringent ANSI requirements as well.  The IBC adopts the ANSI provisions. Please call to ask your building apartment which code will apply to your project.
Both codes require a 36″ grab bar behind the toilet, starting 12″ from the corner. The bar should be mounted at 33-36″ above the floor.
ADA requires a single 42″ grab bar on the side, again starting 12″  from the corner.
ANSI requirements for side grab bars are a 42″ grab bar, 12″ from the corner, AS WELL AS an 18″ vertical grab bar 39 to 40″ from the corner, starting 39  to 41″ above the floor.  Exceptions are made in some residential applications, but you may still need to install blocking for future grab bars to be installed.