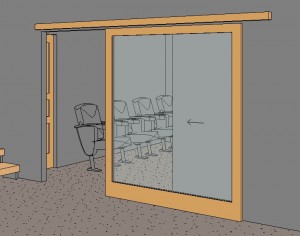 Barn doors are growing in popularity for custom residential projects. They can be used in varying applications. Where they've historically been an exterior application, they can also provide a fun and interesting interior doorway.
Functionally, they provide an opportunity to creatively divide off spaces without managing the swing space required by typical swing doors; similar to sliding partitions. This is most beneficial when the application calls for two rooms that will usually be open to each other but for a special occasion need to be closed off or connected, say for a dinner party at the common wall of the dining room and living room where guests will mingle in both spaces and need the openness.
Because there is really no standard size and they are usually built to suit the application, large openings can be achieved in contrast with a standard sized swinging double door. In the right application they are space savers as well where a piece of furniture can be placed where otherwise a swinging door would be impeded by the furniture or can be used when a wide opening is needed but the swing space is just not there. On the other hand, a framed piece of art or TV cannot be hung on the wall in the path of the sliding door. So careful consideration goes into what makes the most sense for the application.
The example above is an image from one of our projects currently in the schematic design phase where the client wants to use a barn door to divide their theater from the recreation room. More often than not, the barn door will remain open but when multiple activities are taking place, noisy games in the rec room and a movie in the theater for example, the door will be closed.
Click this link, Residential Barn Doors, to see some additional examples of various applications from houzz.com.