This article will discuss climate goals and how development is effected in Denver. As most who live or work in Denver may know, the City has been progressing its goals toward combatting climate change with alterations in requirements for new development projects over the last several years. Working on a recent condominium development in Denver has required a careful analysis of Denver's 2019 amendments to the International Energy Conservation Code (IECC), the City's Green Code policies, and their newly enacted IECC checklists (now required for all development projects in Denver as of January 4, 2021).
Amendments to the Building and Fire Code for the City and County of Denver may be found at the link below:
https://www.denvergov.org/content/dam/denvergov/Portals/696/documents/Denver_Building_Code/2019-code-update/2019_final_amendments.pdf
Denver's IECC checklists may be found here:
https://www.denvergov.org/Government/Departments/Community-Planning-and-Development/Building-Codes-Policies-and-Guides
Of primary import for any projects in Denver with R-2 occupancy classification is the revision of definitions in the Denver amendments to the IECC.  Denver revises the definition of 'Group R' from that included in the IECC to remove the qualifier, 'where located more than three stories in height above grade plane' and defines a 'Residential Building' to exclude R-2 occupancies from using the Residential portion of the IECC.
In a nutshell, this means that Denver considers a residential building that is governed by the IBC to be 'Commercial' with regards to the energy code even if it falls under the 3-story or less qualifier in the IECC.
These definitions further become important with the introduction of IECC checklists in Denver; the Commercial checklist has a few additional requirements than those of the Residential checklist. For the purpose of this article, the commercial lists and Commercial Provisions of the IECC will be focused on. While the amendments have been in effect since 2019, the implementation of the IECC checklists in 2021 bring some awareness to the existing requirements with the addition of some new ones.
Daylighting and Lighting Controls:
The City of Denver does not require any daylighting or lighting controls above and beyond the requirements of the 2018 IECC, though lighting controls, daylighting areas shown on plans, and light responsive controls per the commercial requirements of the IECC will be required on IBC residential projects. (See section C405.2 for more information.) Per 2018 IECC 405.1, dwelling units need only comply with residential provisions. However, commercial provisions (including daylight zones) may be required in corridors and common areas for residential buildings.
Car Charging Stations:
The City of Denver added Sections C405.10 and R404.2 to their amendments to the 2018 IECC requiring Electrical Vehicle (EV) charging for new construction and Level 3 alterations in most occupancies. Specific requirements per occupancy are shown below. (Residential requirements are identical to Group R requirements in the Commercial provisions of the Amendment.) Denver identifies three levels of requirement:
EV Capable – A parking space that is provided with conduit and dedicated branch circuit to an electrical panel with sufficient space for future car charging.
EV Ready – A parking space that is provided with conduit and dedicated branch circuit that is terminated at a receptacle or junction box for future installation of car charging equipment.
EV Installed – A parking space where electric vehicle car charging equipment is fully installed.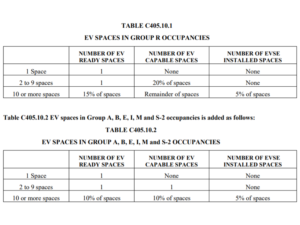 Solar ready roofs:
Additionally, the Denver Amendment to Appendix CA of the 2018 IECC requires solar ready roofs where reserved space must be provided in the main electrical service panel for future solar panel installation. Area without obstacles must be accounted for in structural design and shown on roof plans for possible physical location of future solar panels. Solar-ready zones must be provided for single family homes, duplexes, townhouses, and commercial buildings. The requirement for the latter is to provide a solar-ready zone at least 40% of the roof area, depending on roof slope and orientation. Other areas and specific requirements may be found in Denver's IECC checklists.
Insulation and the Thermal Envelope:
Necessary R and U values differ depending on whether the project uses the Commercial or Residential sections of the IECC. The requirement for continuous insulation on commercial projects in many climate zones may have a significant impact the project, effecting wall thickness and fenestration detailing if identified too late in the process.
Above and Beyond:
Denver also requires each Residential project to meet one of the following 'above and beyond' qualifications and Commercial projects to meet two: More Efficient HVAC Performance, Reduced Lighting Power, On-Site Renewable Energy, Dedicated Outdoor Air System, Enhanced Envelope Performance, or Reduced Air Infiltration. Specific requirements for each are included in the checklists.
Identifying a project as Commercial per Denver's definitions introduces many additional requirements that may incur cost and coordination. Be sure to read through the project-appropriate checklist as early as possible in the design process. Keep in mind that many disciplines may also be required to provide Denver specific COMcheck reports, proving that the project meets the energy saving goals of the City.
Web-based and downloadable programs for COMcheck can be found at:
https://www.energycodes.gov/comcheck
Check out this other EVstudio article about climate change: https://evstudio.com/climate-change-and-an-architects-role/