Meeting the 2009 International Building Code requirements for with timber construction hasn't always been the easiest thing. I found early in my career that the traditional methods of fastening wood deck railing posts to wood decks did not meet building code criteria (some frighteningly so). The method I developed to properly achieve code compliance wasn't necessarily the most cost effective way and wasn't met with much positive feedback from builders.
Introduced in their 2010 product line was the Simpson Strong was the DTT2Z.  This anchor provides a simple and tested method of attaching wood deck posts to wooden decks. A sample detail from a recent project is  shown below as well as an excerpt from the Simpson website.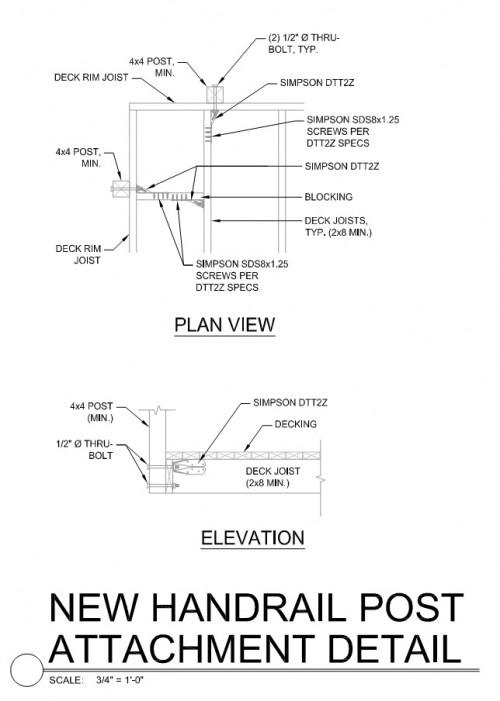 "The DTT2 is a safe, cost-effective way to attach deck-railing posts to the deck framing. Because the post is tied back into the deck joists, rather than to the rim joist alone, the connection is stronger than typical through-bolt installations and complies with IRC and IBC code requirements regarding handrail and guardrail post connections for decks. The DTT2 also complies with the new IRC requirements for laterally tying the deck to the house. Additionally, the versatile DTT2 is load rated as a holdown for light-duty shearwalls and braced wall panel applications. The DTT2 fastens easily to a single 2x joist or stud using Simpson Strong-Tie® Strong-Drive® SDS screws (included) and accepts a 1/2″ machine bolt or anchor bolt.
The new DTT2SS is made from stainless steel for applications in higher exposure environments. Whether it's a deck guardrail post application or the lateral-load connection from the deck to the adjacent structure, the new stainless-steel DTT2 is the best choice for seaside applications or those calling for more corrosive preservative-treated lumber formulations. It fastens to the framing members with stainless-steel Simpson Strong-Tie Strong-Drive SDS wood screws (included).
The new DTT2Z-SDS2.5 is our standard DTT2Z packaged with 2 1/2″ Simpson Strong-Tie Strong-Drive SDS wood screws instead of the standard 1 1/2″ fasteners. These longer screws allow the DTT2Z to achieve a load capacity in excess of 2100 lbs. when used as a holdown on double studs in a shearwall application. The DTT2Z-SDS2.5 is also suitable in deck applications when double 2x members are used for deck joists or blocking."