Our projects range across commercial and residential building types and climates from cold and dry high alpine environments above 10,000 feet to hot and humid sites below 1,000 feet. One very important element to consider in every design is the thermal envelope. This is composed of the floors, walls and roofs, and all of the insulation therein designed to maintain consistent comfort within the building regardless of outdoor temperatures and large swings in those temperatures.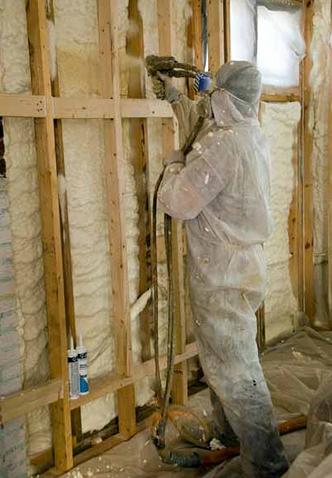 Advances in spray foam technology is making closed cell foam more affordable for projects of all kinds, and the advantages over traditional batt and cellulose insulation methods are staggering.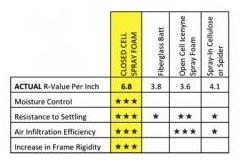 As you can see from the above comparison chart, not only does closed cell spray foam significantly outperform other methods in R-value, but it also contributes substantially to moisture control, reductions in air infiltration and even structural frame rigidity. Not shown in the chart are also the superior acoustic advantages to closed cell foam in the walls.
Typical solid foam installation assemblies are below:
Walls: 2×6 with 3″ of Closed Cell Foam = Approx. R21
Walls: 2×6 with 5-1/2″ of Closed Cell Foam = Approx. R38.5
Walls: 2×4 with 3″ of Closed Cell Foam = Efficiency Equiv. R21
Walls: 2×4 with 3-1/2″ of Closed Cell Foam = Approx. R24
Ceilings: 7″ Closed Cell Foam = Approx. R47.5
Ceilings: 10″ Closed Cell Foam = Approx. R68
All of this performance does come at a premium, however, and one way to cut down on installation costs, while also maintaining a sound thermal envelope is the "Flash and Batt" method. This method combines the advantages of closed cell foam with a thinner layer, and making up the balance in the wall or ceiling with traditional, lower cost batt insulation.
Typical "Flash and Batt" assemblies are as follows:
Walls: 2×6 with 1″ of Closed Cell Foam and R15 Batt = Approx. R22
Walls: 2×6 with 2″ of Closed Cell Foam and R15 Batt = Approx. R28.5
Ceilings: 1″ Closed Cell Foam and R30 Batt (for cathedral roofs)= Approx. R37
Ceilings: 1″ Closed Cell Foam and R38 Batt (N/A cathedral roofs)= Approx. R45
Ceilings: 2″ Closed Cell Foam and R38 Batt (N/A cathedral roofs)= Approx. R51.5
Ceilings: 3″ Closed Cell Foam and R38 Batt (N/A cathedral roofs)= Approx. R58.5