We offer full scope design and engineering services for various types of Recreation Facilities, and a common question we typically get in the beginning of any project is: How much does it cost to build a Recreation Center? There is a wide range of definitions for a recreation center and the functions that occur inside. As a result, this is no easy question to answer until a thorough program has been put together for the overall facility. However, there is some guidance for the specific types of spaces that occur within the center. Below are the results of data that has been collected for a range of these projects across the country by the industry leader in construction cost estimating, RSMeans.  Consistent with all of the studies available for construction costs, you will see that there is a significant range in cost, depending on location.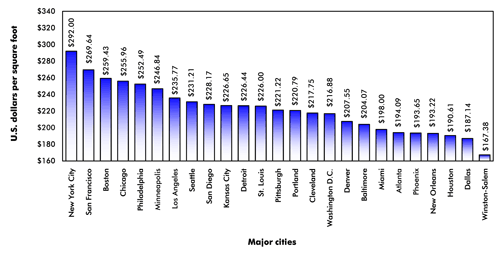 Enclosed Swimming Pools is the most common element found in community recreation centers. The cost per square foot for these types of spaces range from $167  to $292 with the median hovering around $226 per square foot. While different programmatic requirements can significantly alter the costs of a swimming facility (water playgrounds, whirlpools, etc.), this is the most expensive space in this particular study.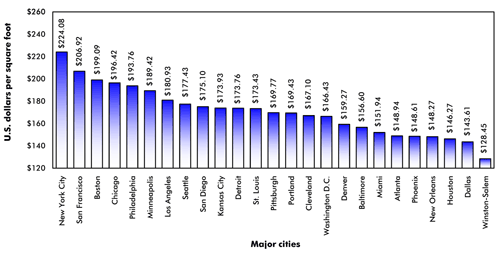 Racquetball courts are still a very popular addition to any state-of-the-art recreation center. With similar building volume requirements as a swimming pool, but far fewer specialty systems, these spaces range from $128 to $224 with the median falling around $173 per square foot.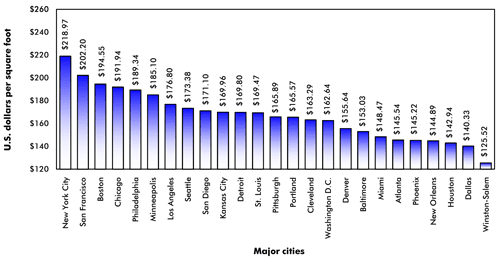 Something of a specialty for a recreation center, and often times, a function on its own, is a hockey rink or an indoor arena. These spaces require long span structural systems, but enclose a large amount of space, helping to drive cost per square foot down to some degree. The range for this type of space is $125 to $218 with a median of $169 per square foot.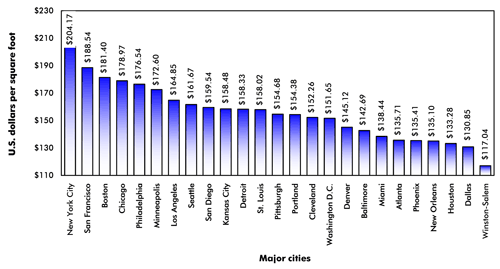 Finally, even more of a specialty for a recreation center, and more commonly found in separate private sector entertainment facilities, is the bowling alley. Again, a large open space, and with some specialty equipment. The range is $117 to $204 with a median of $158 per square foot, and is the lowest cost for space in this study.
Each of these project types can vary greatly depending on the specific group of functions, the location, and the population served. In order to better identify a more accurate estimate of construction cost, we must look at the specific program and all of the other factors that go into a cost assessment during the initial stages of design. For more specific information regarding the cost of any project, please contact us at EVstudio and we can assist in that process, which will set the stage for a highly successful design for your project.