We are always studying the costs of various project types that we design so that we can leverage historical construction cost data against future project budgets. This post focuses on a project type we are highly experienced with: Nursing Homes, or also commonly known as Long Term Care Homes. Our source for this data is RSMeans, the leader in construction cost data.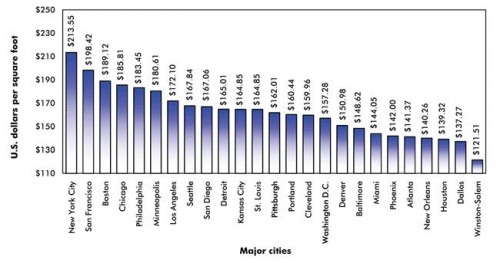 The construction cost chart illustrates that the most expensive city to build is New York, with the Southern Cities having lower costs per square foot. The Median cost per square foot for Nursing homes falls around $160 per square foot.
These costs are indexes based on averages across a wide variety of projects with various programs. Long Term Care facilities have a wide range of programs and functions that can drive costs. For example, therapy gyms, swimming pools, spas and various other high tech amenities for residents available in higher end facilities can push the costs per square foot higher.
EVstudio has extensive experience with these kinds of projects and the cost impacts of various aspects of the program. We would be happy to discuss your project with you and help to outline your specific program and how it informs your project budget.