EVstudio has a large body of collective experience with Multifamily and Apartment projects and we keep a very close eye on industry trends for construction cost as they are directly relevant to the our projects and clients who need to be ever vigilant with their cost control and project budgeting. This post focuses on a specific project type: Apartment buildings between 8 and 24 stories. The number of stories impacts a project considerably as there is an economy of scale involved with spreading out infrastructure cost and the cost of required internal systems (like elevators and structured parking) across the gross square footage of the building.
The source for this data is RSMeans, the industry leader in construction cost estimating.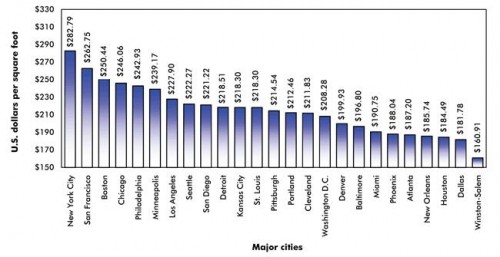 As we have seen for nearly all project types in previous research, New York tops the chart as the highest cost per square foot for this project type while cities in the south are among the lowest cost per square foot. The median cost per square foot falls around $220 per square foot.
Apartment buildings are well known to have a huge spectrum of amenities and services from high end spas, theaters, shops and restaurants within a larger mixed use program, while affordable housing apartments would generally keep to a simpler program. Regardless of the kind of apartment or multifamily project you are considering, EVstudio can help to inform your initial design concepts while keeping in mind your project budget. Then ultimately providing you with award winning architectural and engineering design for the realization of your project.