In an effort to keep our information current with the moving economy, I am posting an update to the series on Estimated Construction Costs per square foot for Medical Office Buildings. Below is a chart from RSMeans construction cost data that illustrates the cost per square foot for new construction sorted by region from the most expensive to the least expensive.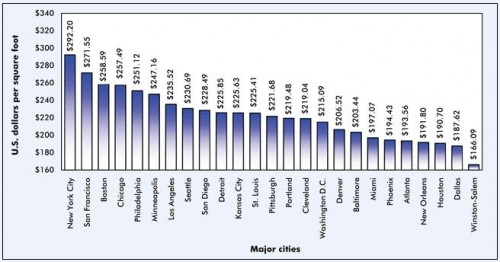 Year over year from our previous post on this project type, construction costs are inching higher across virtually all markets. However, in the most expensive market, New York, the increase is only just over 1% while the least expensive market advanced only .2%. The median increase hovers right around 1% in most markets.
Medical Office Buildings are in a subclass of office buildings that has become a specialty within EVstudio in recent years. For more specific information regarding the cost of an individual medical office building to suit your requirements, please contact us and we can help to scope all of the parameters that make your project work.