Although most of EVstudio's multifamily residential projects are in the Denver Metro area, the need for housing in Colorado extends to other parts of the state, and development opportunities in other areas should not be overlooked. EVstudio also has active projects in the Colorado Springs area, Northern Colorado, the Western Slope, and both workforce and resort projects in mountain areas. One project that exemplifies the far-flung development opportunities in Colorado and EVstudio's ability to provide a multifamily product optimized for any market is the Ten West project in Greeley, Colorado for Saunders Commercial Development Company, LLC.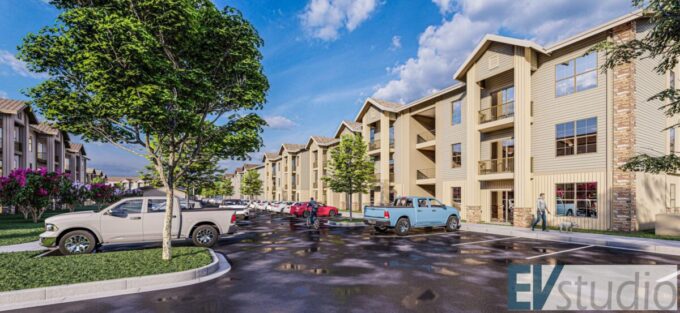 Saunders Development identified a for-rent apartment need in Greeley and acquired a 10.15-acre site. Saunders identified enough demand within the Greeley market to support a market-rate apartment project and worked with EVstudio to provide an amenity-rich, modern development that fits within the Greeley market. Ten West Greeley Apartments offers 264 one, two, and three-bedroom apartments averaging 884 square feet per unit.
All apartments include modern finishes, generous, well-equipped kitchens, large windows, efficient heating and cooling, ceiling fans, and balcony space. The large windows and balconies offer views of the adjacent Sheep Draw open space and regional trail. A connection is provided to the trail, which can also be used to access the nearby City Center West commercial area.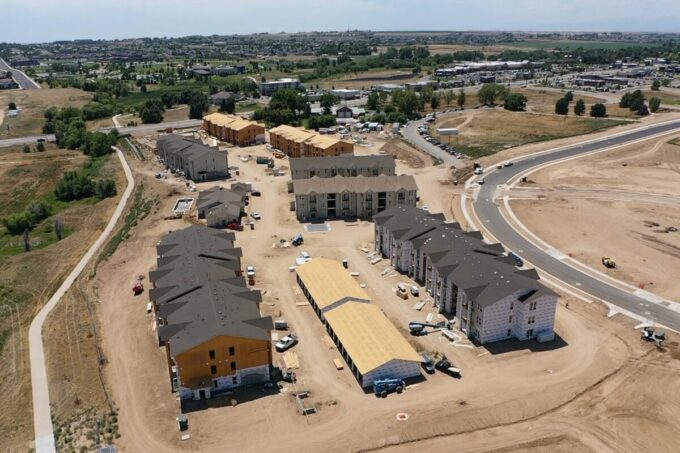 Resident amenities include the trail connection, a dog park, and a well-equipped clubhouse. The clubhouse provides an automated package locker system, dog wash, bike repair station, large fitness room, and a generous community space with fireplace, games, beverage bar, and a variety of seating options. Both the community and fitness rooms open directly onto the pool deck area overlooking the Sheep Draw open space. The pool deck area provides year-round outdoor space for resident use including the large pool, spa, sand volleyball court, fire pit, and barbecue kitchen.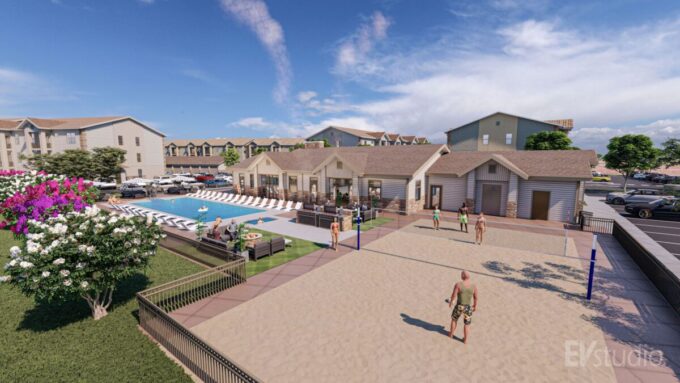 To ensure the financial viability of the project, EVstudio civil engineering was able to optimize the challenging site to provide a 26-unit per acre density, unmatched in the Greeley market, which includes 1.77 parking spaces per unit including 64 independent garages. The paving area was limited to 43% of the site while providing 32% open space area with 25% site-building area, complying with stringent City of Greeley zoning and engineering requirements.
http://https://youtu.be/-ZzpX5bZjDs
EVstudio is proud to have partnered with Saunders Development on this project, providing architecture and multidisciplinary engineering services supporting the success of the project through design adaptations and a tedious entitlement process. Shaw Construction has provided preconstruction and general contracting services and has maintained budget and schedule constraints even through COVID-19 pandemic conditions. Completion is anticipated Q2 2021 with tenant move-ins starting in November 2020.
If you would like a consultation for multifamily housing solutions, click here.