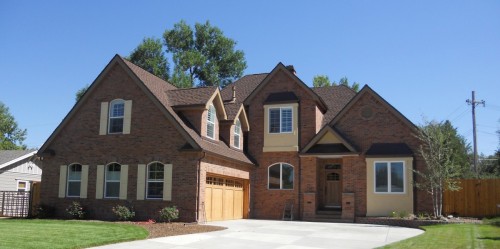 The Pierce Residence in the University Hills Neighborhood in Denver is complete.  This brick and stucco house is 2700 finished square feet with 3 bedrooms, 2-1/2 baths, and has a large bonus room above the garage.   There was a lot of brick detailing on the exterior of this house:   We used a single-wythe full brick veneer with a double brick soldier course band around the bottom of the house, brick frieze at the gables, arched brick soldier coursing at the windows, and decorative brick coining at the garage.
Instead of going the traditional brick ledge route, we pushed out the foundation wall 4" so that the stud wall hangs off the interior edge 1-1/2" to make room for the 4" brick on the exterior.  This method requires less foundation pour while also adding a small amount of square footage to the basement.
Designing a brick home that is more sensitive to the traditional residential style of Denver was a nice change from the vast amount of stone currently used throughout the city.