Modular Buildings – A Time and Cost Effective Construction Solution
What is a Modular Building?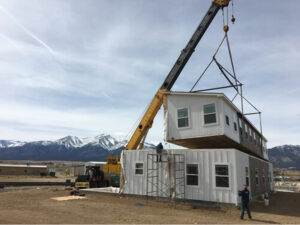 Modular buildings typically have part of the building constructed on site (foundation and podium, stair and elevator cores, corridors, roof, and exterior skin), with the majority of the building components built off site in a factory. Units complete with casework, appliances, mechanical, electrical, plumbing, interior drywall, insulation, exterior sheathing, building wrap, and, in some cases exterior finish materials, are then shipped to the job site. Units may be built of either wood or steel studs, and each module is independently structured. Upon reaching the site, units are stacked, and all utilities are connected. Unit modules are typically used in single- and multi-family housing and may also be appropriate for hotel and assisted living construction.
Advantages of Modular Designs
There are many benefits to modular building. The factory-style assembly provides a more consistent construction environment and greater quality control. Complete units delivered to the job site means shorter on-site construction (data shows up to 50% reduction), fewer inclement weather days, and reduced impact on the surrounding community. Need for on-site labor is reduced, which can be beneficial in areas where skilled labor is scarce or expensive. Modular design uses more lumber (or steel studs) due to double-stud demising walls and duplicated floor-ceiling assemblies, but this provides more structural stability to the building, and the assembly-line method reduces construction waste. Additionally, air gaps are left between building elements, which improves the rate of sound transmittance between units in multi-unit developments.
Challenges with Modular Designs
Modular construction also presents some design and logistical challenges. Modular buildings are most effective when unit size and layout are consistent, repeatable, and with as few unit types as possible. Unit plans must be finalized early in order for units to be built and delivered on schedule, and there is less flexibility for field modifications. Additionally, unit sizes are limited to that which can be put on a truck. Modular manufacturers should be able to guide as to maximum allowable shipping load, depending on location and route. Typical module sizes are approximately 13' tall and 12-18' wide depending on roads being traveled and whether or not the route includes crossing state lines. Length is less restrictive and may depend more on design and practicality. Dwelling units can be split into two or three modules, however, each must be a complete, structurally sound, and shippable 6-sided rectangle, which effects unit design.
But Wait… Consider This..
Additional considerations include cost and permitting. Upfront costs will typically be higher for the developer, as modular manufacturers require some percentage of the unit cost upon ordering. Modular drawings are reviewed by both local jurisdiction and the state where the product is to be built.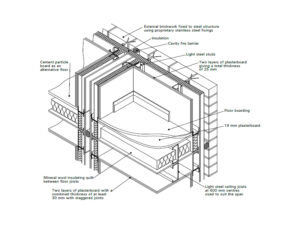 Shop drawings for factory fabrication are produced by either the modular manufacturer or the design team and are reviewed by the state before fabrication begins. Once drawings are approved and the boxes have been built in the factory, they are then inspected by the state's inspection team (or an authorized third party) before shipping. Any site constructed portions of the building including foundations, utility connections, stitches between boxes, and final finishes are inspected by the local jurisdiction.
Modular projects are most successful if the modular manufacturer and design teams are involved early in the process and the building is designed from the start to meet shipping requirements, modular manufacturer parameters, and permitting/inspection requirements of the authorities having jurisdiction.
To learn more about modular buildings and how they are used in a variety of different projects please follow this link https://evstudio.com/modular/.