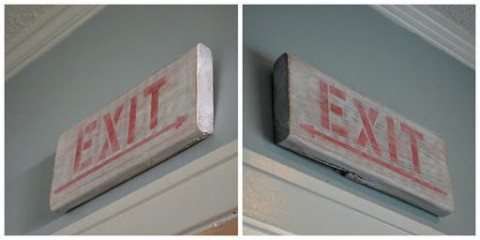 According to the IBC and almost any other sensible building code the answer regarding 1 exit or 2 exits is almost…almost always 2 exits.
The one thing we as designers take more seriously than any other danger to the safety of our building occupants is fire. Fire is uniquely dangerous because it can strike quickly and with little warning.  It can destroy the safety measures put in place to stop it, or destroy the path to get the occupants away from it.  If all of those things weren't bad enough the by product of fire is smoke which can kill occupants who aren't even near the fire and who may not even be awake enough to realize what is happening.
As a designer I may occasionally grouse about how many toilets I have to install to account for a rare use of my client's building because I care about my client's money but how to exit those people in the event of fire is serious business.
It just makes sense!   A backup plan is always a good idea….but as a service profession we understand that backup plan can come at an expense and every expense needs to be justified.
With that in mind there are sections in the code specifically targeted for the exceptional situations where 2 exits are allowable.  For example IBC 2009 Table 1015.1 and Section 1021.
The questions these sections and their related sections ask:
Is your building or space very small?
Is your building sprinkled?
Are there lots of exits ?
Are there very few people in your building (as defined by the code)?
Is your building 1 story?
Are the occupants of your building almost always awake when it is in use?
Are the uses of your building not likely to cause a fire?
Are the occupants of your building not inherently immobile?
If you answered yes to many of these questions then you may indeed be able to exit people safely with one exit.
A short analysis of your project will generally produce a good exiting/egress strategy and I would be happy to talk you through it over the phone.  If you are on the borderline then a more in depth analysis is probably necessary and we can talk about a site visit or having you stop by the office or potentially a web meeting if you aren't in Evergreen, Killeen, Denver or the surrounding areas.  Just give our main number a call and look for Bill on the phone tree!