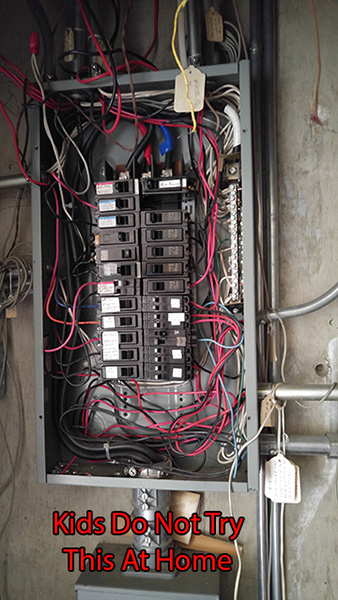 Electrical Panel Locations
Often during the schematic design process, the question comes up from time to time regarding acceptable locations for electrical panels.  The National Electrical Code has a few restrictions on where electrical panels may be located, as follows:
NEC 110.26 requires electrical equipment (including electrical panels) to be located to provide required working clearances about the equipment.  Electrical equipment must have a minimum 30" wide clear working space laterally in front of the equipment.  This does not have to be centered on the equipment, but the electrical panel door must be openable to 90 degrees.  The working space can be shared among panels located adjacent to each other along a wall and need not be dedicated to a specific panel.
A clear working space in front of the equipment is required based on Table 110.26(A)(1) based on the voltage rating of the equipment and the conditions under which the panel is installed.  For a nominal voltage of 0-150V to ground, the minimum clearance is 36" for all conditions.  For higher voltages (151-600V), the clearance requirement varies between 36" and 48".
NEC 240.24(D) states that overcurrent devices (i.e. circuit breakers and by implication electrical panels since they contain circuit breakers) shall not be located in the vicinity of easily ignitable material, such as in clothes closets.  Also, the maximum height of a circuit breaker must not exceed 6'-7" above the finished floor or working platform per NEC 240.24.
NEC 240.24(E) states that in dwelling units, dormitories, and guest rooms or guest suites, overcurrent devices, other than supplementary overcurrent protection, shall not be located in bathrooms.
NEC 240.24(F) states that overcurrent devices shall not be located over steps of a stairway.
UL listing requirements and IBC restrictions for membrane penetrations also preclude a panel from being located in a fire-rated partition or an area separation wall.
In summary, electrical panels can be located anywhere other than in bathrooms, clothes closets, above steps of a stairway or in fire-rated partitions or area separation walls as long as the proper working clearances are provided per NEC 110.26, and the enclosure type is suitable for the application (i.e. NEMA 3R if exposed to weather).
For detailed information, I have included a useful PDF from Mike Holt Enterprises Electrical Clearance Requirements.
If you would like to learn more or work with a team that takes an integrated approach to electrical engineering alongside architectural design and other engineering disciplines, get in touch with EVstudio. We excel at taking a holistic view of every project to deliver results that make your vision a reality.