After a long research period, our VR teams at EVstudio are finally working to implement virtual reality into some of our recent projects.  Here at EVstudio, Virtual Reality has been a common discussion topic around the office, and while a lot of us still don't grasp the finer technological details, everyone is excited to get their hands on the final product.
When most people hear virtual reality, they picture tech-savvy kids and video games.  While this is the primary demographic that uses the technology the applications are far-reaching and will inevitably make it into all of our lives at some point.  That is why we at EVstudio are focused on adopting and mastering the technology early and providing yet another edge over our competition.

Here are the different headsets required to view VR.  The Oculus Rift and HTC Vive can be used interchangeably with our software.
Right now there is a multitude of different ways to incorporate Virtual Reality into Architecture and Engineering.  The first decision is to determine what scope you are looking to develop your virtual design.  Two recent case studies by IrisVR exemplify the different routes you can take the technology.  The European Architecture firm Friis & Moltke has chosen to focus on using VR on the client side of the work.  Rather than designing in VR, they have utilized the program Scope which allows the firm to transfer their 3D model of the building into a photorealistic 360° panorama.  The image is then viewable as an interactive image on any current smartphone or as a navigable VR space on Apple and Android devices with the Google Cardboard headset or a Samsung phone with a Gear VR device.  From here the client can access the image from anywhere with an internet connection and can fully control the image by holding the phone to their face and looking wherever they are interested, just like looking through a traditional camera.  Providing these 3D images for each room leads to an immersive site walk for the client whether they are exploring their future dream house or the lobby of their apartment complex.  The Washington D.C. firm StudioMB has taken their use of VR a step further by incorporating it into the design side.  They utilize an HTC Vive which is a headset and hand control combo that always the user to explore and interact with the virtual environment with a full sized avatar.  The user has access to "Room-Scale" VR which means they can walk around a virtual space equal to the size of the physical room they are in real life.  The addition of hand controls allow the StudioMB to physical drag around pipes or cut sections into walls to view the internal construction.  Perhaps the best tool at their disposal is the ability to draw markups in 3D. Drawing in 3D allows for greater clarity than anyone view could ever provide.  Instead of adding a note saying to drop the ceiling in a location you can get physical draw a three-dimensional box with whichever contours and finishes you desire.  Both firms have been met with great success.  Friis & Moltke has reported significant reductions in Requests For Information, redesigns and design time for the project as a whole.  Despite these tangible metrics, they point to the biggest advantage being client confidence in their team.  StudioMB stated similar successes, less City Comments and even shorter design times.  They are most excited about using this technology to improve communications between their different office locations without having to travel.  Both firms are ecstatic about the influx of new business opportunities through word of mouth alone.
The phone above is displaying a stereoscopic 3D image; you see wherever the phone is looking like a portal into space.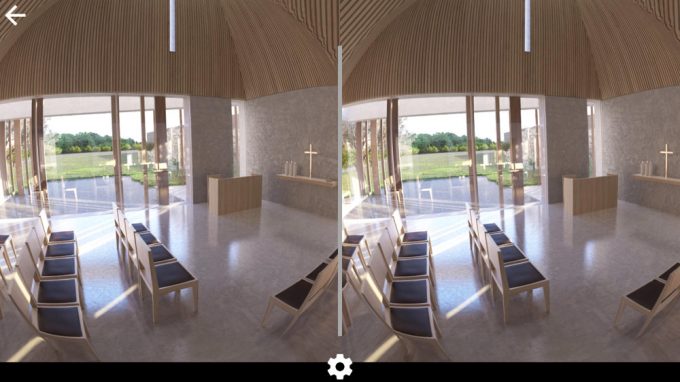 Here is a VR space and when looking for a device, like Google Cardboard (above), it feels like you are actually in the space at a 1:1 scale.  The image is a church designed by Friis & Moltke where the client had trouble visualizing the size of the main room.
EVstudio is excited and motivated to bring this technology to Denver in a big way.  We are beginning to test the market with advanced rendering packages on some of our residential projects.  These packages are a similar approach to those offered by Friis & Moltke.   We use Autodesk's A360 tool to provide the client, the contractors and any other relevant party with full 360° stereoscopic 3D images to peruse at their leisure.  Rather than designing a project for the client, we hope this will ensure the development of a shared vision with the client through continuous and early communication. An example of a 3D markup where the designer has outlined a possible porch addition.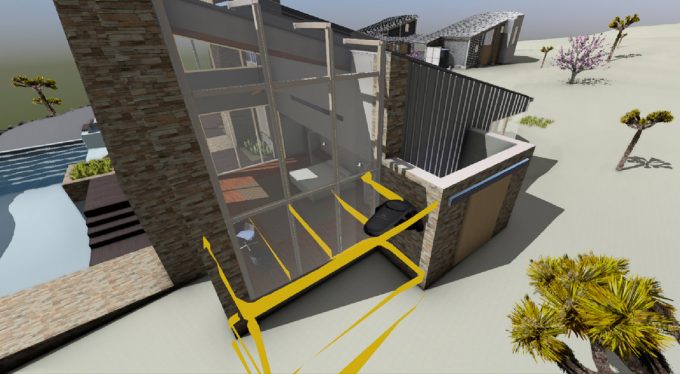 Here we can see a quick visualization of height, width,  railing and even a pergola roof.  Team members can meet in the virtual space and adjust the drawing until they agree, all without wasting unnecessary time developing these sketches elsewhere and then trying to coordinate a meeting.
For those interested in getting a VR services email us at design@evstudio.com.