Virtual reality modeling is an exciting new frontier for the fields of architecture, engineering, and design. I'm a Design Project Manager for EVstudio's Commercial Studio. One of the more fun things I get to do is help set up virtual reality (VR) models for client walk-throughs. This is an add service that can be put in the contract if it's something the client wants as part of their design process with us.
VR In Action
We use an Oculus that utilizes Enscape, a VR rendering plug-in for Revit. This allows our team to translate what we've designed in Revit to a VR experience that a client can interact with, and that can reflect interior design features they intend to have in the built environment. Depending on the client, multiple VR walk-throughs can be achieved at different stages of the design process. Using virtual reality modeling to help give clients the same three-dimensional understanding of a space early and often has a lot of benefits.
Case Study: Pizza Parlor
One example of this is when we helped design a new pizza parlor. The kitchen needed very specific equipment, and a specific layout and arrangement was needed for the streamlined production of the pizzas. There were ovens, stations for topping preparation, and more. Doing the virtual reality modeling for this project helped our team factor in a very important consideration for this client that we hadn't thought about while designing the built environment: The paddles that are used by kitchen staff to move pizzas in and out of the ovens have extremely long handles. The first walk-through design we presented wouldn't have had room for their use. Once we had that client feedback, we were able to make the most of the width of the space available for the kitchen's design. We rearranged the layout to improve the practical execution of the design and fully accommodate the client's needs.
Elevating Revit with Enscape
The use of virtual space to help the clients visualize their future building has been incredibly helpful. Enscape has a bunch of default entourage assets for staging furniture, people, plantings, and more. Depending on the level of detail a client wants imported into their VR experience for the overall design, VR walk-throughs can be time consuming to set up. The more detail needed, the more time required. The base render that is imported from Revit isn't very detailed. It simply shows the massing and forms in the model. When we discuss this add offer on a client's contract, different levels of detail are outlined for them to choose from for their walk-through. The "complete package" comes with full finishes and items they select, such as fixtures like sinks and faucets, or other appliances or client-specific items. We take the time to ensure it looks accurate before presenting to the client.
Case Study: Hughes Fire Equipment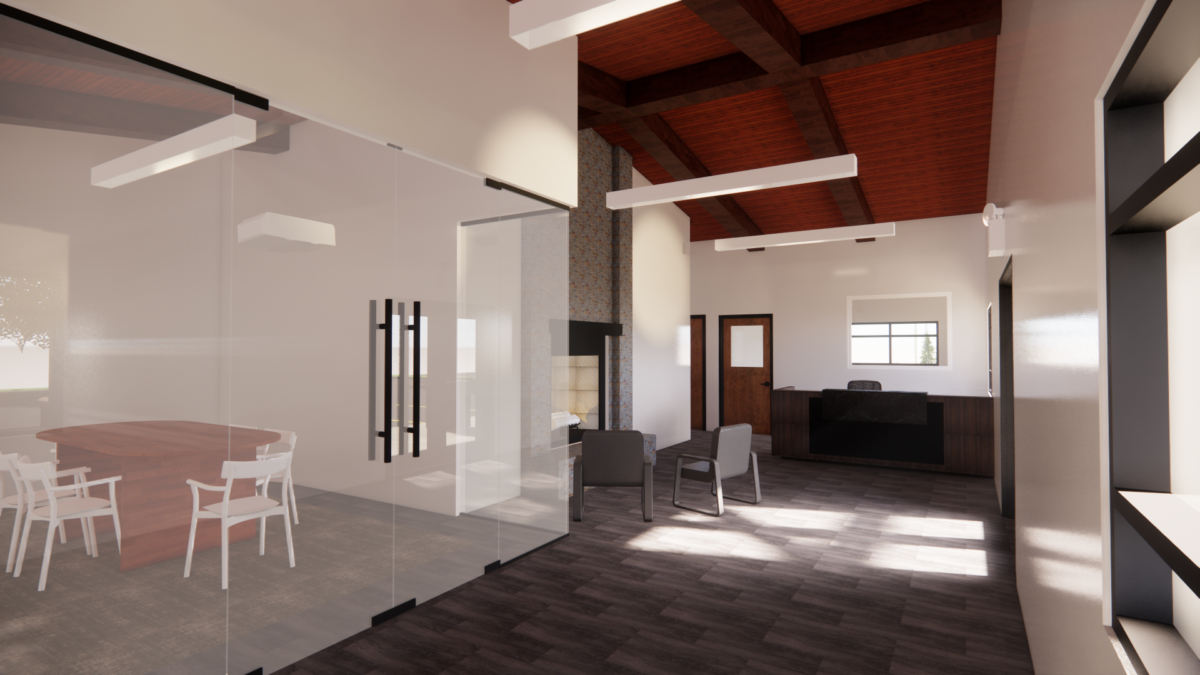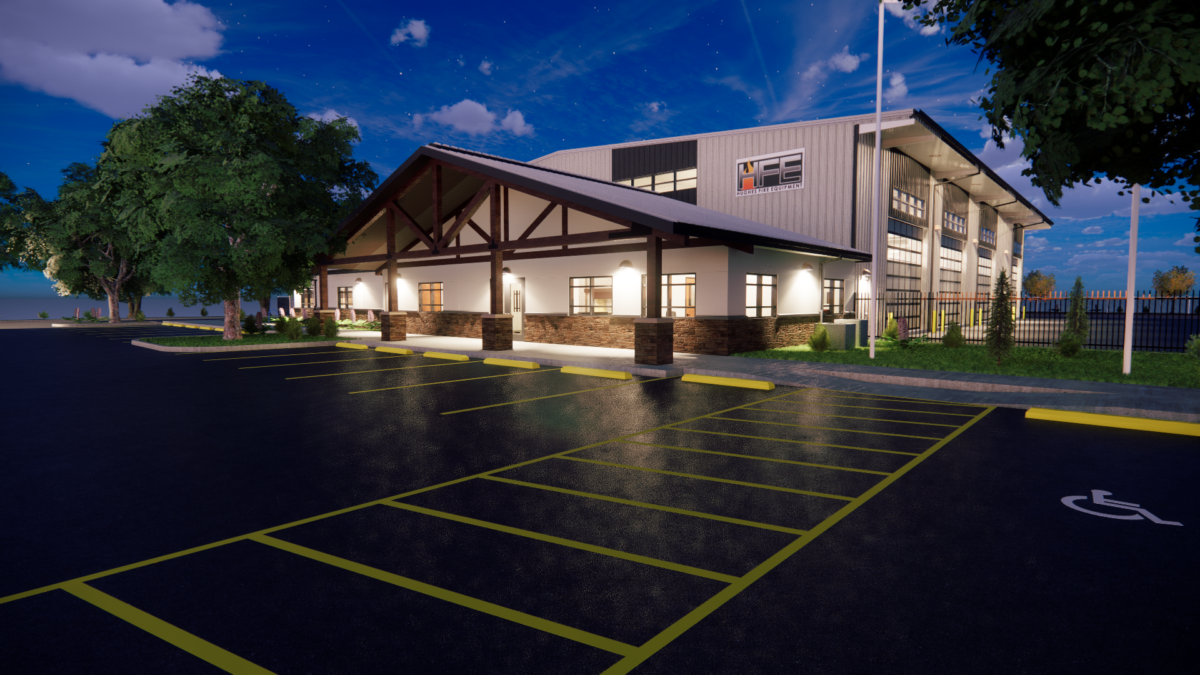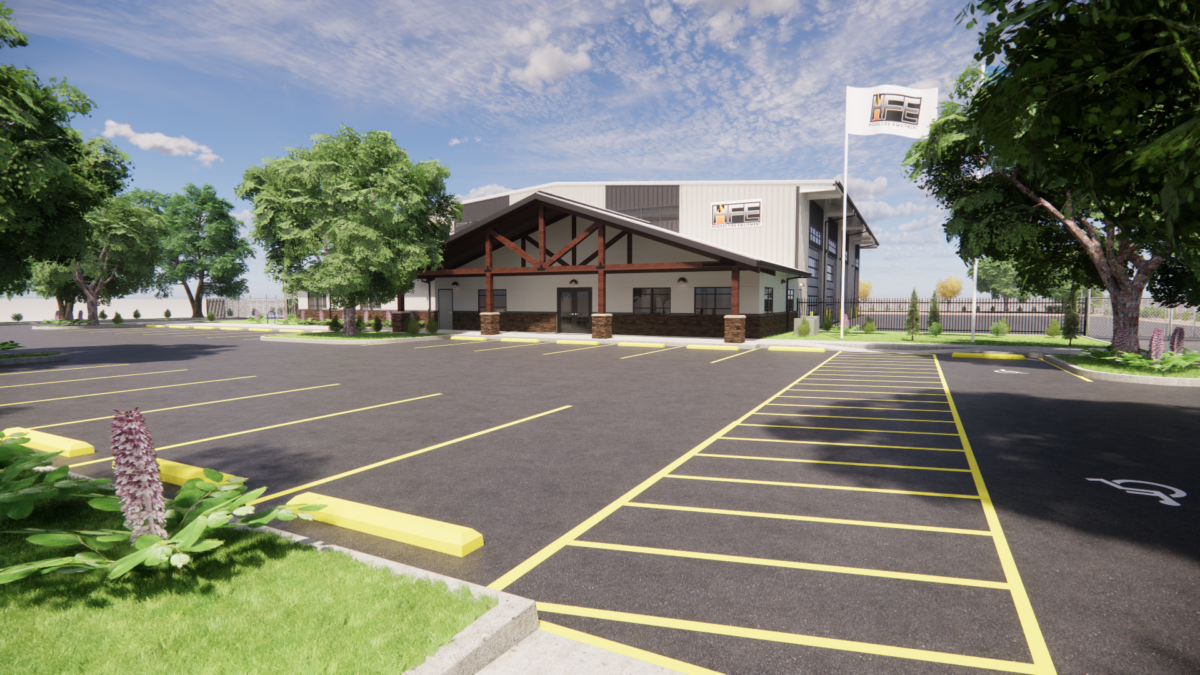 These examples, shown above, of the Hughes Fire Equipment building use a higher level of detail than average for a VR walk-through. We collaborated directly with an interior designer to create this model. The interior designer picked out the different fixtures and finishes within the office space, which we reflected as accurately as possible within the Revit model. This gave a more immersive experience for the client when they did their walk-through.
Bringing It All Together With VR
When working in-house, our team has gotten pretty good at visualizing what something would look like in real life simply based off of the plain Revit models that we are so familiar with. Having the 3D virtual reality modeling for clients is always a fun way to confirm that our visualizations are still accurate, and to truly "see" what a project will look like once constructed. Being able to translate a digital design into an embodied experience beyond what building codes and textbook-approach-based decisions can convey also helps us have more clear communication with clients about things like why certain clearances are spec'd on a design. All in all, these VR walk-throughs help us deliver the most incredible designs we can for clients.
Want to work with us? Let us know!