On Saturday, the EVstudio banner was taken to new heights (14,270' to be exact).  An adventurous group representing many of EV's disciplines and offices embarked on a climb into the great Colorado Mountains to enjoy some fresh, albeit thin air and breathtaking views.
We met up early in Denver and then Evergreen to hit the trailhead for the 6:45 sunrise.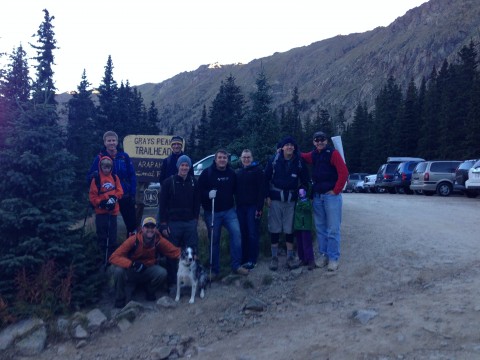 Our objectives lay before us: Grays Peak (14,270') on the left and Torreys Peak (14,267') on the right. The mountains were named after two of America's most famous botanists, Asa Gray and John Torrey, who first achieved fame in 1838 for their book, "Flora of North America." Gray actually climbed his namesake peak with his wife.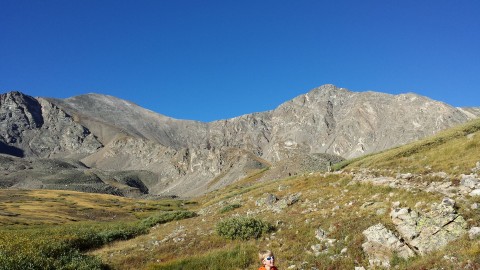 We enjoyed perfect weather as we made steady progress, with four in our party taking a diversion on the way up to climb Torreys Peak first.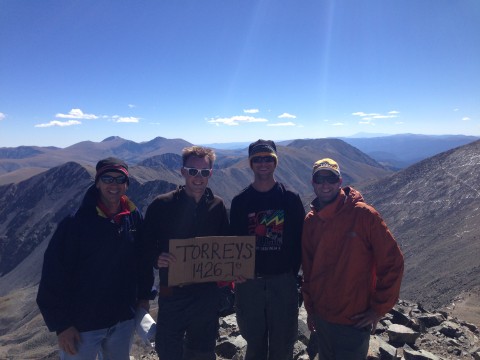 From there, they traversed over the saddle and up to Grays Peak where they met the other group with impeccable timing as they were also summiting.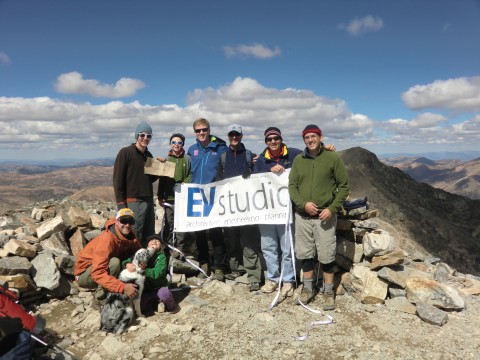 We enjoyed the amazing views, ate some lunch and made a safe descent.  All in all it was a great day with new personal highs by Chris Wager & Katelyn Spainhour, first 14er summits by Maggie Foster (age 6 – she had a little help) and Sam Bull (age 11).  The rest of the team from left to right above was rounded out by Tim McCabe and Charlie the dog, Wade Hanson, Brad Bull, Kacy Landsittel, Dean Dalvit and Bill Foster.
To quote Sir Francis Younghusband:  "To those who have struggled with them, the mountains reveal beauties that they will not disclose to those who make no effort. That is the reward the mountains give to effort. And it is because they have so much to give and give it so lavishly to those who will wrestle with them that men love the mountains and go back to them again and again. The mountains reserve their choice gifts for those who stand upon their summits."
In the midst of life's stresses, schedules and deadlines, it's important to recharge our batteries with some of the majestic beauty that is just outside our back door.  The EV team, now recharged, is ready to take on your project challenges.