The EVstudio Evergreen office finally had its ribbon cutting with the Evergreen Area Chamber of Commerce on November 20th. While Evstudio has been a member of the Evergreen Chamber of Commerce and providing high quality architecture and engineering services to Evergreen and the surrounding the mountain communities of Colorado since 2005, it has taken us nearly 5 years and three offices to get around to officially having our ribbon cutting with the Chamber.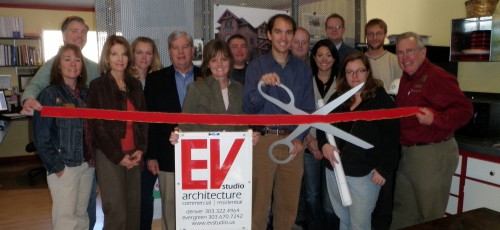 So, with our "Grand Opening" long behind us, we decided to celebrate the creation of our Structural Engineering department in our Denver office earlier this Summer.
Our link at the Chamber page can be found Here. We have also been members of the Evergreen Downtown Business Association since our inception as well. Our link on that site can be seen Here.
Both of these organizations and their websites have all kinds of information about resources and events in the Evergreen community. Being a part of the local communities that our individual offices serve is important to all of us here at EVstudio.