Continuing on the heels of EVstudio's first international multi-family project located in Saskatoon, comes the Sequoia Rise condominium project.  Sequoia Rise is Phase II of a three phase effort to supply housing to a city experiencing the growing pains of rapid development and a tight housing market.  Serving the oil and gas industries along with the expanding chemical and academic fields, the 69-unit project will offer one and two bedroom suites ranging from 700 to 1200 square feet, generous amenity space including Yoga and Game rooms as well as underground parking in a heated garage.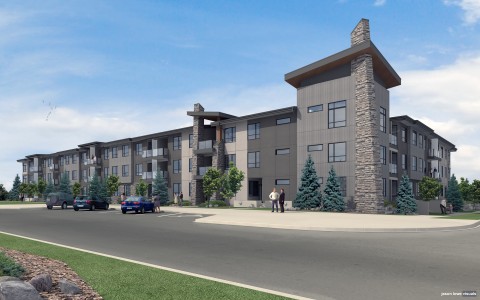 Developed by Meridian Development, a leader in the Saskatchewan market, Sequoia Rise and its successor, Sequoia Square, form the northern edge of the Evergreen town square.  These two projects will serve as the housing backdrop for adjacent retail, services and community open space.
EVstudio provided both the architecture as well as the structural engineering design for the project.  Construction is complete and the project quickly sold out.