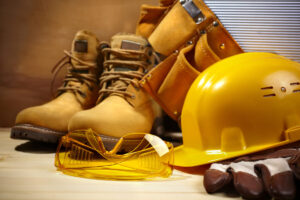 EVstudio is known throughout Colorado as a provider of gold standard structural foundation inspections. The Field Inspectors complete high-quality inspections, while paying special consideration to job site safety. Construction sites can pose many dangers for EVstudio Field Inspectors, from unstable footing due to hazardous soil conditions like dirt clods and mud, to objects falling from above, and potential fall hazards. Fortunately, health and safety regulations set by the Occupational Health and Safety Administration (OSHA) provide stringent guidelines to help minimize workplace injuries for construction industry professions. This blog will review job site hazards that EVstudio Field Inspectors might come in contact with and the OSHA standards that mitigate for them.
Construction sites are littered with tightly packed dirt clods, a variety of different types of nails and other sharp objects on the ground, shoe sucking mud, electrical cords, rebar, splinters, blowing dirt, ice, and objects such as framing debris falling from above. In the course of their various inspections, EVstudio Field Inspectors often stand 9 feet high on temporary scaffolding to inspect wall steel, traverse steep grades to inspect footings, and crawl through basement walls using step ladders to access interior perimeter drains while carrying a shovel and surveying equipment. Field Inspectors also walk around framed structures to inspect shear walls and framing and must be aware of potential hazards such as lumber with nails sticking out and construction debris falling from overhead.
EVstudio Field Inspectors follow OSHA guidelines to ensure their personal safety while navigating these various potential job site hazards. OSHA 1910.136 states protective footwear is required "when working in areas where there is a danger of foot injuries due to falling or rolling objects, or objects piercing the sole or when the use of protective footwear will protect the affected employee from an electrical hazard". In order to be in compliance with this standard, EVstudio Field Inspectors wear steel toed boots with good ankle support to prevent sprained ankles, crushed toes, or a foot being impaled with a long framing nail. EVstudio also provides each inspector with a hard hat and a set of impact rated safety glasses in order to prevent injuries that could be life changing or ending as required by OSHA 1910.135(a)(1) and OSHA 1926.102(a)(1), respectively. OSHA 1926.153 directs when, how, and what type of ladder ought to be used on constructions sites. Each Field Inspector carries a versatile multi-position aluminum ladder and a step stool in order to comply with these regulations and avoid unnecessary falls. Ladders are used when grades are too steep to be accessible, to access scaffolding safely, and to traverse over walls when necessary to perform an inspection. OSHA 1910.138 (a) requires use of appropriate hand protection when employees' hands are exposed to hazards. EVstudio Field Inspectors wear gloves to protect against lacerations or punctures as many items on construction sites can cause such injuries. Finally, you may also observe Field Inspectors wearing orange reflective safety vests when required by a specific job site. OSHA's reflective vest mandate (1926.21 (a)) is directed at professionals working in transportation, such as flaggers, and therefore not required on many job sites. However, many commercial job sites where EVstudio Field Inspector's perform inspections do require that reflective vests be worn at all times.
EVstudio Field Services provides quality inspections while remaining cognizant of potential hazards on the job site and while following OSHA guidelines. Call or email us today for your inspection needs and you can be sure that all inspections will be completed by a professional who is knowledgeable and follows all safety guidelines.
For more information about our Field Services Team, read this EVstudio article: https://evstudio.com/evstudio-field-services/
For further information about OSHA and specific guidelines, please follow this link to their website: https://www.osha.gov/