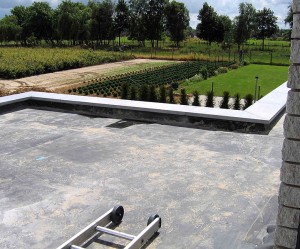 There are a number of flat roofing systems available, some of which include EPDM (Ethylene Propylene Diene Monomer), and Modbit (Modified Bitumen).  While each has its advantages and disadvantages, these are two of the more common systems used in residential and commercial applications today.
Modified Bitumen is a common flat roofing system that consists of asphalt with added modifiers to give it a rubber-like quality.  Modbit membrane rolls come in 36"-39" widths, and cover an area of approximately 100 square feet.  Surfacings can include mineral granules, copper, aluminum, or aggregate.  Modbit systems are usually one, two, or three-ply systems and are typically torch-applied.  Installation costs are less than most single-ply systems on the market today.  Modbit is available in a variety of colors, whereas EPDM is typically limited to black or white.
Since most modbit systems are torch-applied, the roofs may experience leaks when the proper moisture barrier is not installed underneath the coping cap on parapet walls.  Other typical problems with this system include inadequate head laps and backwater laps which allow moisture infiltration.  Effects of backwater laps are leaks and blisters which can lead to roof failure.  Even cold-applied modbit systems can result in moisture infiltration as well as under application of adhesive which can result in poor lamination and roof leaks.
EPDM is a single-ply, flexible rubber roofing membrane that can easily be cut to size to fit any job.  This system can either be full-cured prior to installation, or can be left to cure during natural weathering after installation.  The most common application procedures include fully-adhered, mechanically-fastened, or loose-laid.  The first method uses water-based adhesives to adhere the rubber to the substrate. The second method is attached by using manufacturer-approved mechanical means to the substrate.  The third method involves securing the membranes only at the perimeters and any penetrations. EPDM roofing systems are usually sealed using adhesive or splice tape.
EPDM can be installed in a single piece, eliminating problems with parting joints and roof leakage.  It also does not crack, peel, or split, and is resistant to atmospheric pollution.  Its high percentage of elasticity allows it to stretch to over 300% to accommodate temperature change and building movement.  The approximate life expectancy for an EPDM roofing system is around 20 years, with little to no maintenance required.
Both EPDM & Modified Bitumen offer benefits to the flat roofing industry. Modbit tends to be less expensive and offer more aesthetically appealing options, while EPDM is more environmentally friendly, easier to install, and tends to have a longer life cycle when installed correctly.