We recently completed a space plan as part of a feasibility analysis for a small medical office in the Southview office condominiums in Evergreen. Before the owner could purchase the property, we needed to assess what could be done with the existing space and how many exam rooms could fit within the existing office condominium.
We worked together with the owner to program the requirements of his typical offices, along with the realtor, EV Real Estate, to come up with the appropriate terms necessary to make a workable offer for the condominium. This included assisting the owner in creating a pro forma for the condominium complete with a cash flow analysis. With these tools, the owner was able to confidently determine the viability of the space for his business in the short and long term. It also was instrumental in preparing a qualified offer for purchase, backed with realistic numbers.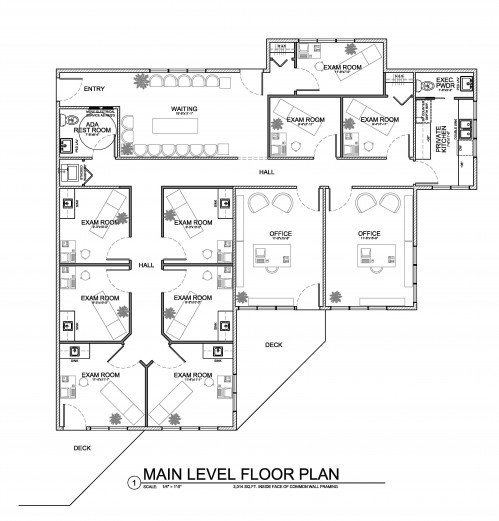 Most business owners rarely can build a new building for their business, and so they are constrained by the existing space available on the market at any given time. While finding the right space that can house the functions that are required can feel like searching for a needle in a haystack, we can help with feasibility studies of this kind so you can have the confidence you need to move forward with the space, or to keep looking. If the project is viable, we simply continue developing the plans generated during feasibility all the way through permitting.
With EVstudio's experience in commercial real estate development, office condominium ownership, and commercial space leasing, we help business owners in all kinds of scenarios like this. The project does not have to be near any of our offices provided we have accurate backgrounds of the space in question. Our initial consultation is free and many times, after a phone discussion, we can ascertain if the project requirements can be met.