We do a fair amount of work observing structures after a fire.  Sometimes those fires start from a child with a cigarette lighter or an electrical short due to faulty installation. We primarily inspect for structural integrity but sometimes we consult on how to properly install a new fireplace. Other times, in the instances of town homes, we have provided direction on how to repair or bring fire separation up to code.
Recently we looked at home where the fire was caused by the poor installation of a wood burning stove exacerbated by a lack of maintenance. In the image below you can see a clay flue. Inside that flue is a clear build up of the left over materials of combustion. If that material isn't removed on a regular basis through chimney cleaning it can eventually cause a real nightmare.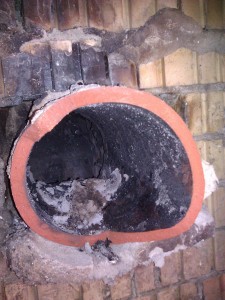 Luckily this home sustained a minimal amount of damage, but it still requires extensive rehabilitation prior to again being suitable place to live.
All new wood burning stoves must be EPA certified. These new stoves burn more efficiently and produce less pollution that old stoves. Cleaner burning results in less build-up inside the flue. New appliances should also be listed and labeled by an accepted testing group in order to protect your safety.
Stove manufacturers will include directions on how to install the stove and metal double walled chimney. These directions will spell out the required clearances to combustible materials from the stove, from the chimney and how how the chimney must extend beyond the roof of the structure. All of these are based on code compliance and extensive testing.
If you are thinking of installing a new wood burning stove, or any fire appliance, it really benefits you to consult with professionals and contractors who are experienced with these products and installation methods. Finally it is recommended to have your wood-burning appliance, chimney, and vents professionally inspected and cleaned each year to keep them in safe working order.