Restaurantowner.com provides a wealth of information for Restauranteurs and other professionals in the restaurant industry. EVstudio has a team of experts steeped in restaurant design and rely on industry information to guide our clients through the design process.
They created a survey that included hundreds of respondents covering  a wide variety of restaurant types and styles. While the scope of the survey is broad, it generates a good general basis for costs that can be further honed with deeper reports available in their online database.
An excerpt of the key cost data is as follows: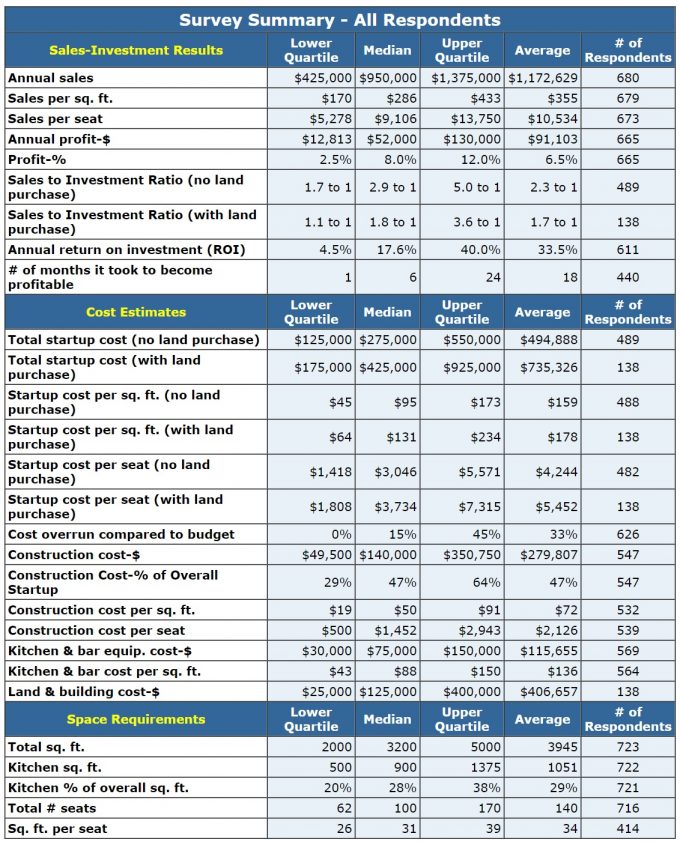 EVstudio has designed  provided award winning Architectural and Engineering design on restaurants all over the US. We would love to speak with you about your next restaurant project and show you how we can design you a project that consistently lands in the Upper Quartile in all success categories. Give us a call at 303-670-7242 or simply comment below for a fee initial consultation – we promise you won't be disappointed!
Below is an example of one of our more recent projects. The bar area at The Rendezvous Tap and Kitchen. It is a part of a larger event and entertainment complex that we designed. I met with the General Manager recently and he told me that in little over a year they have already paid off their initial startup costs and are operating deep in the black. He said that was both a result of the cost effective design we provided that reduced initial costs as well as the great layout and aesthetics that both welcomes their customers and makes them feel right at home. He said that the design gets them in the door, then it's up to his top notch kitchen and wait staff to take care of the rest. And as a loyal customer myself, I can attest that they take care of it very well! We love to be a part of our client's success stories.