We recently completed the Daniel Diamonds Jewelry Store in Bergen Park, and were able to study the important design features that make Retail, and in particular, Jewelry Stores unique among other tenant finish types of projects.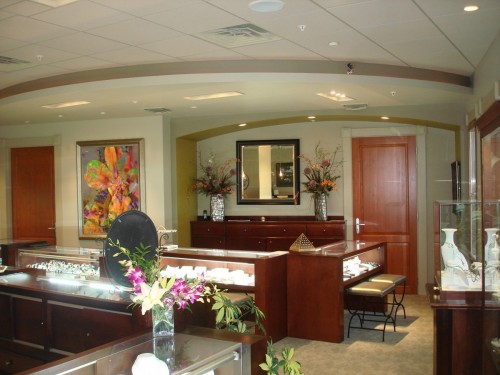 First and foremost, for all retail storea, and especially for a jewelry store, the quantity and quality of direct lighting is extremely important in showcasing the products. Everything from color rendition of the lighting, to the use of general and high intensity lighting to create both a comfortable atmosphere within the store, as well as highlighting the product was studied in great detail.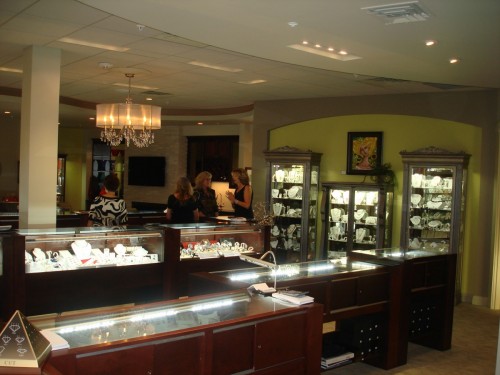 We also made a complete inventory of existing and new casework that would be arranged within the store. For this plan, we decided to break up the store into distinct neighborhoods, identifying them with ceiling treatments and breaks in the circulation within the store.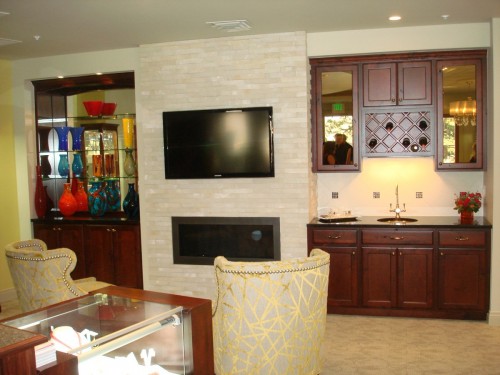 It was also very important to the program to create a space within the store that was informal and relaxing to spend time for both customers and staff. We integrated a sitting area complete with a fully functioning wet bar that is also used during special events.  It was our goal for this as a boutique retail jewelery shop to accommodate the sense of shoppping as an event to be enjoyed, rather than simply a process. We did this through the careful design of the space.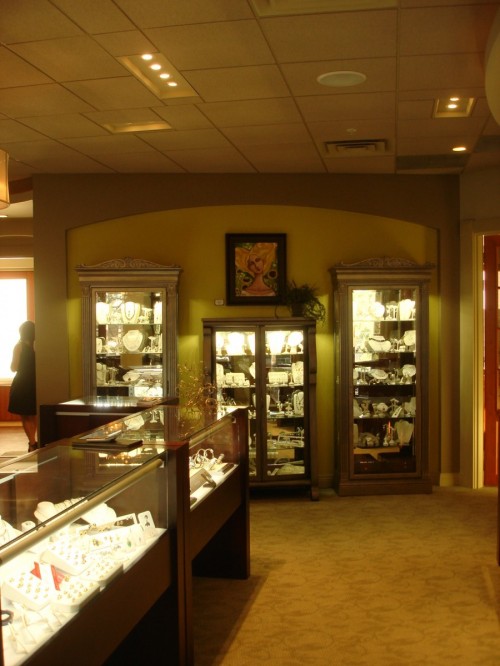 Maximizing the retail space for sales is of critical importance in any retail store. Administrative offices, staff break rooms, and the workspace for the jeweler are all aligned around the perimeter of the central core, and with the use of dividing walls to be more showcase space. Aligning the access to these periphery spaces with exterior windows allows natural light to spread throughout the store from all sides, further enhancing the comfortable atmosphere.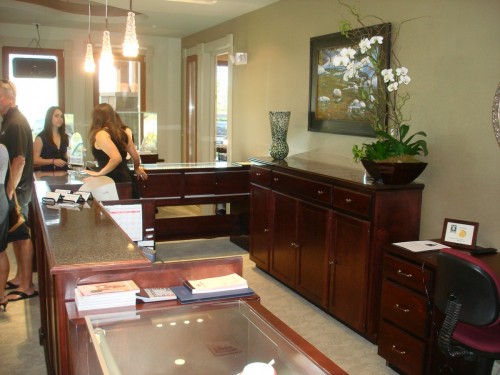 Another very important factor in jewelry store design is security. We throroughly detailed the daily process of the flow of product through the store and designed everything from the sales counter to the location of the safe to address the security throughout the store. Security cameras and alarm systems are important technological tools for all retail establishments.
Lastly, careful selection and placement of art and other interior treatments also serves to enhance the space. This helps to personalize the space and let the store take on its own culture. Proprietors, Danny and Karen have done an outstanding job with their store, and were wonderful to work with through every step of the process.
When designing a Retail Store, whether it is a jewelry store, or any other type, it is important to distill the most important design factors and prioritize them in the program so that you create the kind of environment that you want for your clients, and also to facilitate the buying process.