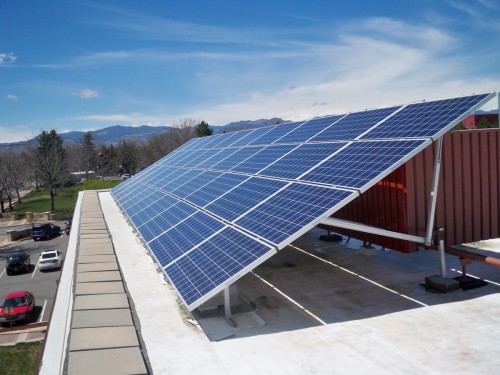 EVstudio recently had the opportunity to observe the installation of the forty photo-voltaic panels atop the City of Arvada Annex Building. To maximize the potential for solar collection the use of an existing steel framed sight wall originally designed to screen the Annex's roof top heating and cooling mechanical units from being viewed from street level. Fortunately the existing sight wall was fairly stout in construction, being composed of a corrugated metal deck screen and steel angle bracing. The steel angles were discovered to be attached directly to the roof's steel I-beam and open web joist sub-structure. Many sight walls of this nature are not fastened as well as the one on the Annex. If it had not been, it may have been necessary to provide penetrations in the roof's waterproofing membrane to resist uplift forces from the wind. Such penetrations are costly because they are very labor intensive and require an outside specialty contractor to re-seal the waterproofing membrane so that the membrane's warranty is not voided.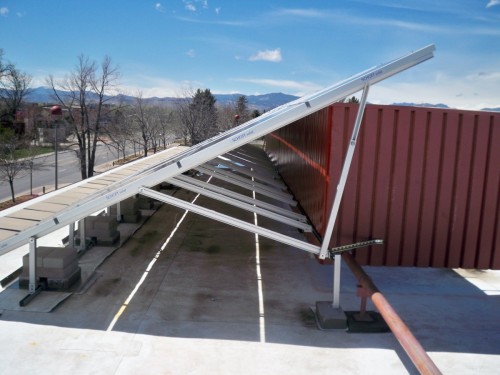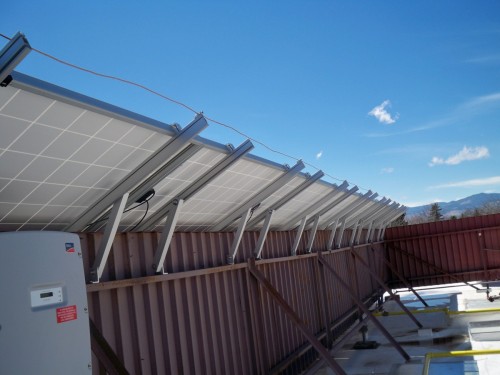 This project is one of many that EVstudio has worked on with Sunspot Solar, LLC. Sunspot Solar is a full service renewable energy provider based in Golden, Colorado. Sunspot Solar specialized in the design and installation of solar (hot water and photo-voltaic), geo-thermal and wind systems. Prior to the City of Arvada Annex building, Sunspot Solar was contracted to provide the massive solar array for the City of Arvada City Hall Building. A short promotional video from the City of Arvada regarding the City Hall project can be found here.
If you have a solar or other renewable energy project in mind and don't exactly know where to start, a good idea would be to contact EVstudio at 303-670-7242 or Sunspot Solar, LLC at 303-526-0100.