Designing a Minecraft Inspired Playhouse
A team from EVStudio had the opportunity to participate in the Junior Achievement Parade of Playhouses this year. We teamed up with builders from Milender White to bring our Playhouse vision to life. This event showcases uniquely designed children's playhouses that are built by professional local builders, businesses, & community volunteers. This is the first year this event was brought to the city of Denver, but has been previously done in cities such as Dallas & Albuquerque.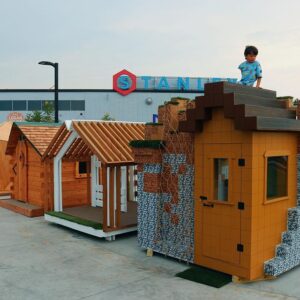 What is the Junior Achievement Organization?
Junior Achievement (JA) is an organization whose focus is to inspire & prepare younger generations to succeed in a global economy. With the rate of children lacking access to education, JA has set out to try and even the playing field by giving access to all children, regardless of background, and equip them with education that gives them skills in critical thinking, career readiness, budgeting, and entrepreneurship. On average, the JA program in Colorado and Wyoming will serve around 100,000 students annually in our region by providing in-school and off-site programs for students in kindergarten all the way through their senior year of high school. These programs are provided by a variety of corporate and community volunteers that are able to give children a real-world perspective. The JA programs are at no cost to the schools that implement them. You can learn more about the work that Junior Achievement does at JAColorado.org.
The Playhouse Inspiration and Design
The EV team used the videogame "Minecraft" as our source of inspiration. To kick things off, we went straight to the source and played Minecraft. The concept of this game is to create things with blocks. Our challenge with designing our playhouse was figuring out how we could take our 7 ½ x 7 ½ box and enhance it with our theme. We decided to incorporate this theme into our design by creating a multi-sided playhouse where each side of the box would depict a different aspect of the game. One side would create the illusion that they were walking into a cave where they would be able to mine for rare materials and hunt for creepers. Another side showed a jungle-inspired vine that was actually a rope climbing wall that kids could climb to reach the top of the playhouse, this would keep them safe and off the ground at nightfall. For the third side, we created a side of the house that incorporated a small house that would serve as a safe place to avoid any of the monsters they came across in the Minecraft world. Lastly, we had a side showing a waterfall element that children could pass through.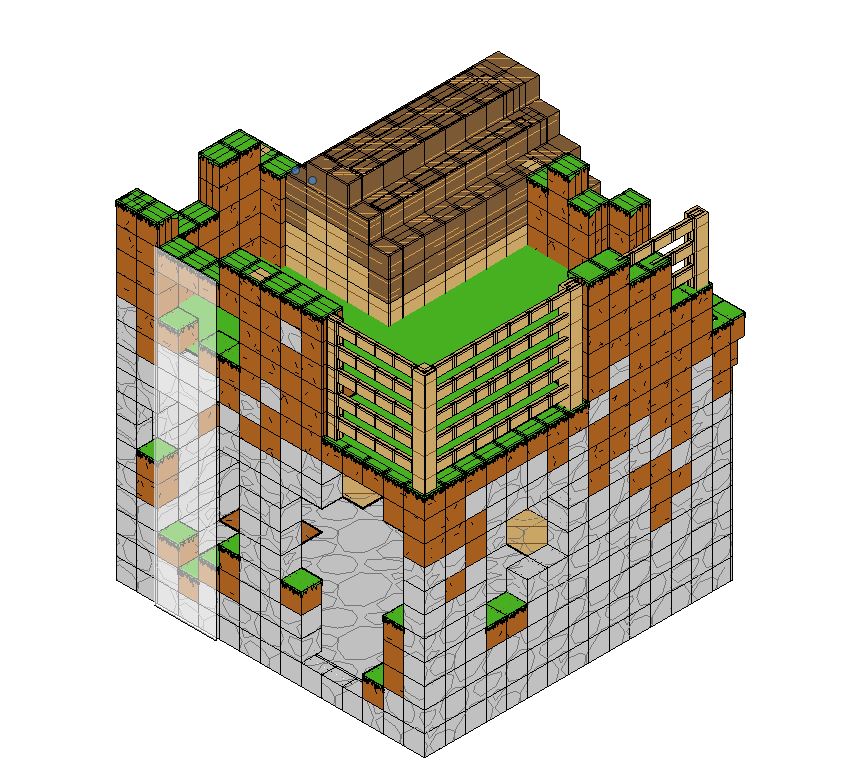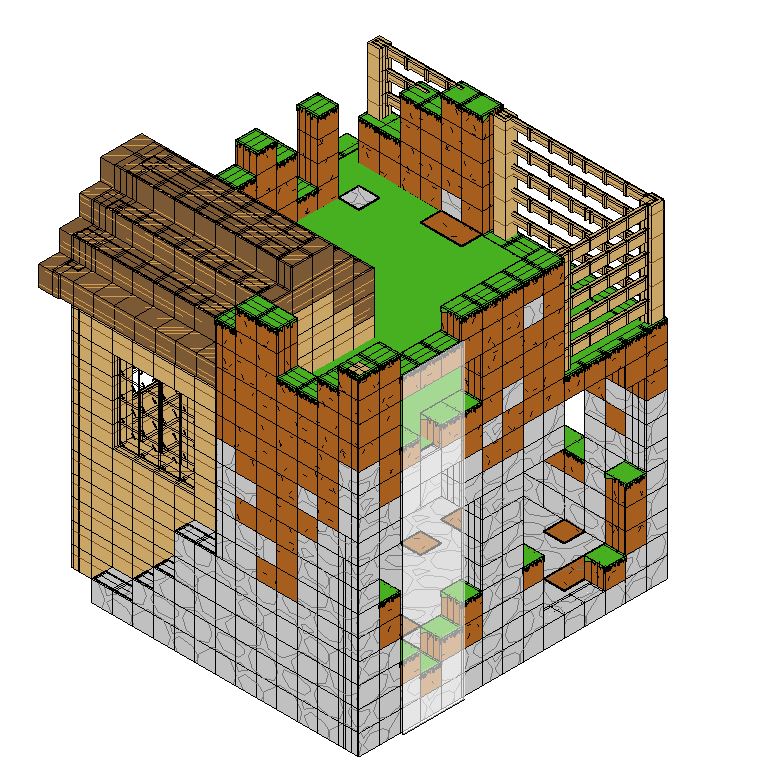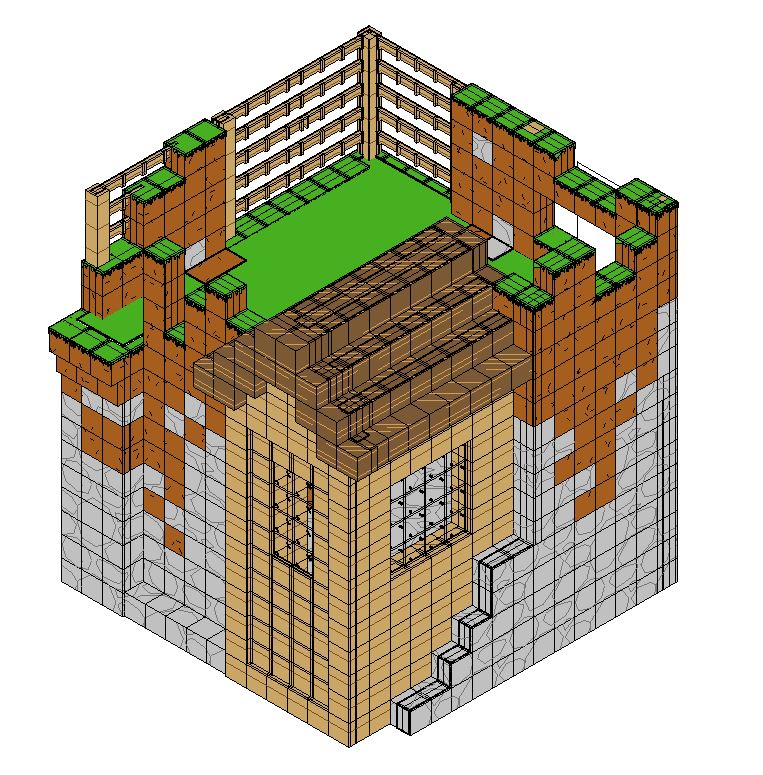 We went through several different design iterations trying to perfect our vision while also fitting it into the requirements and restrictions. Our size restrictions said our playhouse could be no bigger than 8'-0" high by 7'-6" Wide and 8'-6" long. The playhouse was going to be transported by a small forklift, so we were working with a weight limit of 6,000 lbs. Other considerations that had to be made when finalizing our design was not having any sharp edges & being able to withstand the natural elements since they would be located outside. With all that being said, our final concept for our Minecraft Playhouse is what is pictured below.
Painting Details on the Playhouse
During the building process, it became clear what a task it was going to be to hand paint every square on our playhouse, so we decided to try and improve our efficiency by creating a stencil so that we could create the Minecraft pixilation effect we were going for. We created a stencil for all the different Minecraft materials we wanted to portray using a CNC router and used the stencils with spray paint to achieve this look.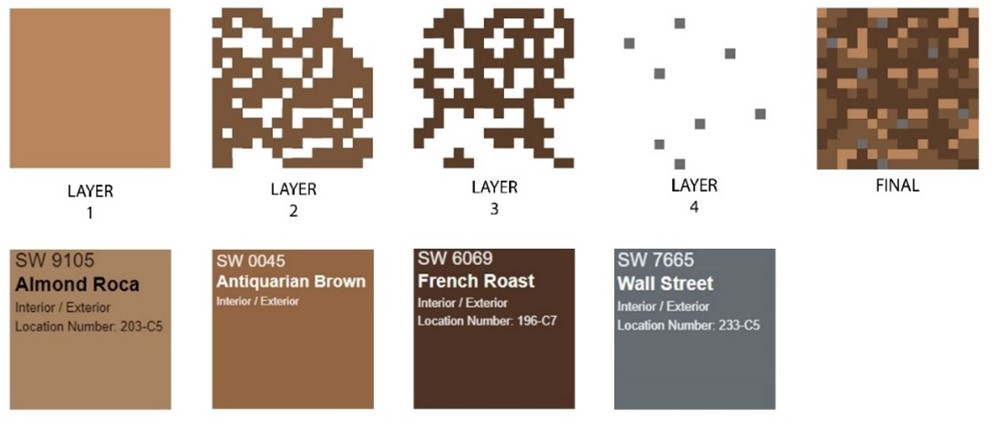 View the video of our CNC Router – Stencil Cutting
Once our playhouse reached 85% completion as a structure, we were able to start our painting process. While we were in the field, we discovered that to really make our squares look pixelated, they would require 2-3 layers of paint along with the other painting details that needed to be done. We ran our deadline down to the wire, but thanks to the hard work from the EV team and Milender team we were able to make this vision a reality, and it turned out way better than we could have expected!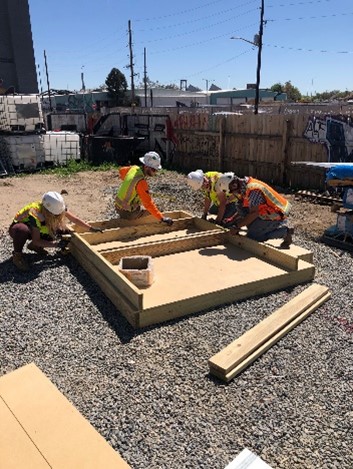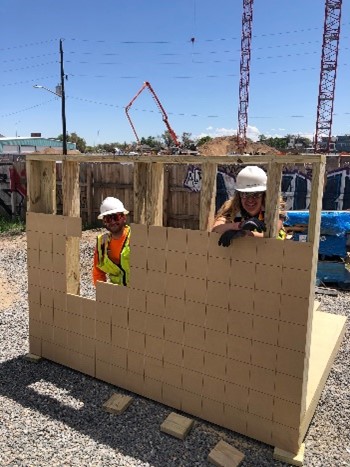 BEFORE: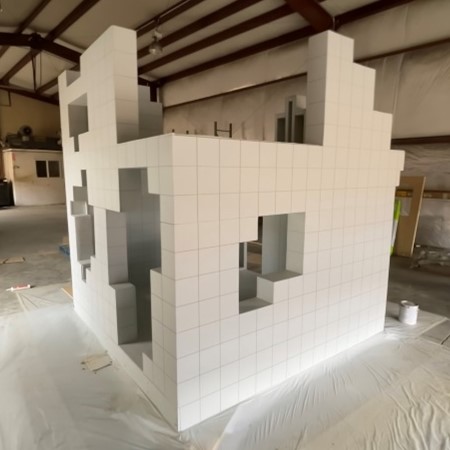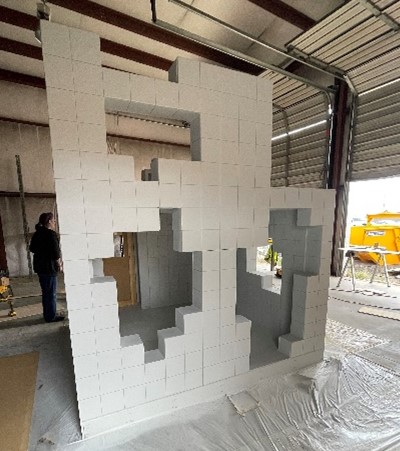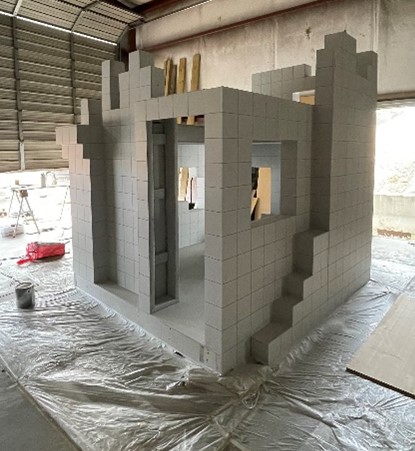 AFTER:
The unique playhouses were on display July 19 – August 7 at Stanley Marketplace, on the southeast plaza. Parents brought their children to view the houses for free, and everyone had a chance to purchase raffle tickets to win one of these fabulous playhouses. All proceeds benefit Junior Achievement programs. For more information about Junior Achievement and the Parade of Playhouse event please see the links below:
Parade of Playhouses – A Benefit for Junior Achievement | RallyUp