We're very excited to be seeing the completion of a modern mountain home we designed in Evergreen Colorado near completion. The Certificate of Occupancy was recently released and the owners are moving in. EVstudio provided all of the Architecture, Structural and Civil Engineering on this project and the seamless integration of each discipline within the others resulted in a true transcendence of form and function.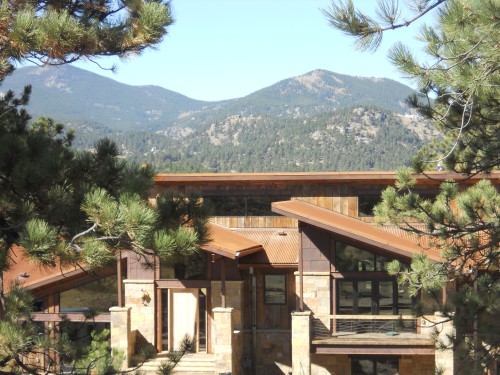 The home nestles naturally into the site and steps with the site. The excavator remarked how simple the excavation was and how perfectly the cut and fill balanced so no costs were incurred in hauling material. Expressing the structural frame was also a strong element in this design. We needed moment frames to handle the lateral loads, but didn't want the huge thermal bridge in the wall that they ultimately create. So instead, we expressed them on the surface of the wall with steel C channel and used the structural element as an architectural trim detail. In fact, all of the headers were handled in this way and the thermal envelope of the walls is significantly better. Note the square head bolts used as an additional touch…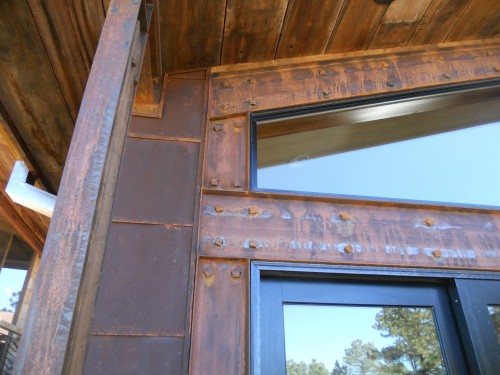 Not only are the forms on this home distinctive offering a fresh interpretation of modern in an organic mountain setting, but the materials are also very rich in both texture and their very nature. Reclaimed weathered barnwood siding, rusting steel and natural stone are prominent elements, respecting the relationship between a home and its climate.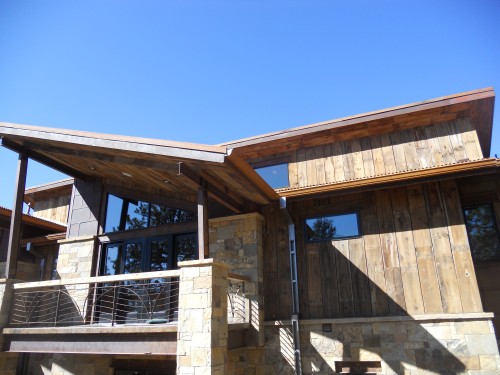 The proportions of the steel siding were based on Fibonacci's golden section. We studied not only the proportions of the home, but also of the aspect ratios of the elements themselves to arrive at the sizes, then the contractor had them manufactured to our exacting specifications.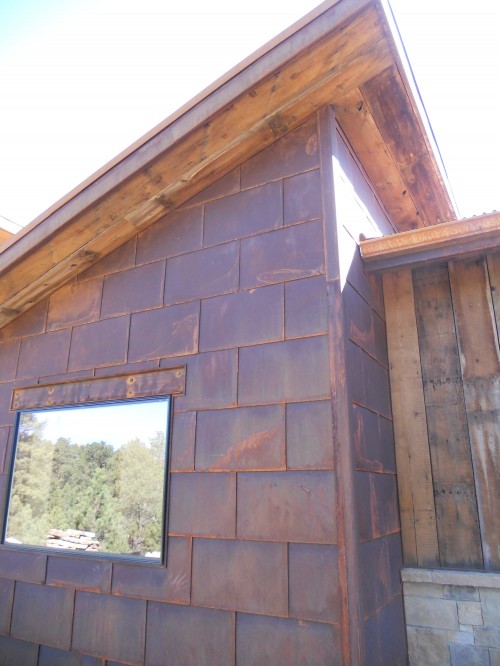 Attention to detail was a hallmark of this home both inside and out. We'll post the interior shots after the owners get settled in, but the exteriors received as much attention as the inside. For our canted steel I-Beam posts, we inserted a reclaimed wood timber with square head bolts.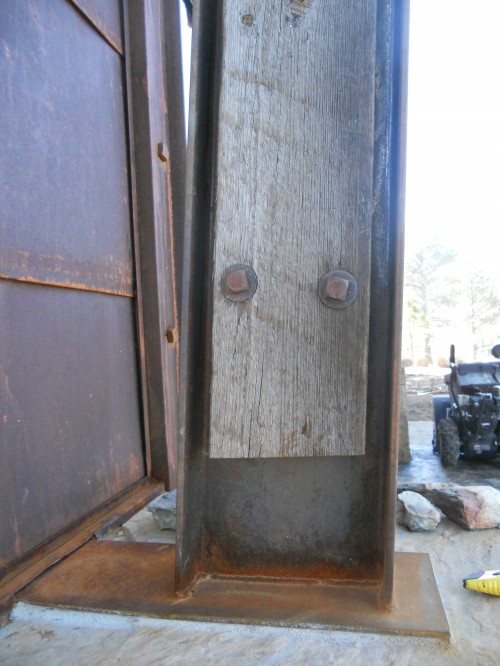 With everything having come together in such a harmonious way, The owners are thrilled with the outcome, as is the neighborhood, not to mention the EVstudio team. We were fortunate to have clients who were so great to work with and open minded to new ideas for their home!