While EVstudio has designed a number of restaurant spaces in the past, there are characteristics that make bakeries unique among a more generalized food service establishment. While it is nice to not have to deal with the equipment necessary in a full service kitchen that includes deep frying and such, bakeries are often compressed into small tenant spaces and there are still a great deal of commercial kitchen functions that must be accommodated. Some bakeries also serve as local coffee shops, which adds another programmatic element to the design of the space.
Most restaurant clients want to focus on maximum convenience for the customer, and bakeries are no different. because many of their clientele come in for a purchase to take home, they do not want to be encumbered with the coffee shop atmosphere and need an efficient point of sale. Layout of the space then must focus on circulation to get those customers in and out with the least amount of trouble. In the meantime, there needs to be a comfortable atmosphere for those customers that will be eating in and hanging out for a while.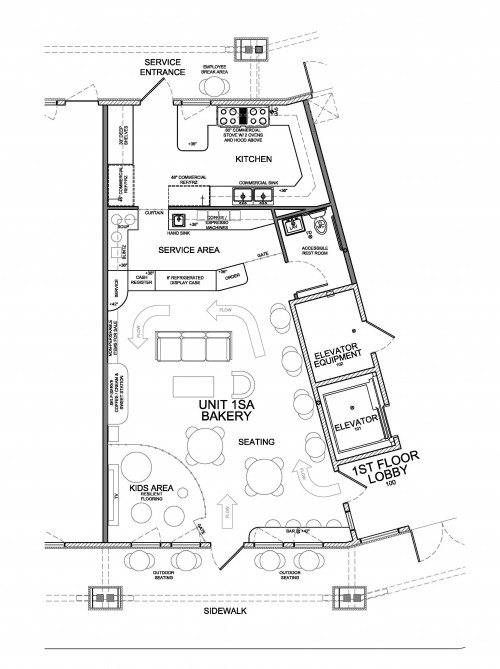 In the floor plan above, you will see a fairly compact bakery with a very efficient kitchen for only one pastry chef, a streamlined service bar, and plenty of seating in the main dining space. There is even a kiddie zone for those customers seeking a little coffee break with their children in tow.  This particular bakery does most of its actual baking offsite and uses the site as a point of sale in a coffee shop atmosphere. Administrative tasks like bookeeping are also done offsite in order to pack the most direct function in the 900 square feet that is available. We have even taken advantage of some outdoor space to augment the seating. Bear in mind that in most cases, this can only be done by negotiated use terms with the building landlord and should be discussed and documented as a part of the lease agreement during the design phase.
Every bakery has different programmatic needs and EVstudio studies each and every one separately so that the business can achieve its greatest potential and vision. As a tenant, you pay for your space by the square foot, so it is crucial to get the most functionality out of every square foot that you have. Anything less will directly impact your operating cashflow and is simply not good business. Good space planning and interior design is one of the best investments any business can make and in many cases, can literally make or break the success of the business. If you are considering opening a bakery, coffee shop, or similar type of service business, we would be happy to provide a free initial consultation to program your needs and see what we can offer you for your vision.