Parking Design with Economy of Space
Automated Parking Systems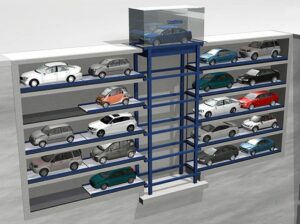 The quality and success of a project is an extremely subjective topic.  If one were to ask the owner of a project "Was the project successful?"  They may respond that indeed the project was a success, they were able to minimize the project cost and sell units at a profit or lease a space at higher than their pro-forma deemed profitable.
If you pose the same question to someone who rents an apartment or leases an office space, they would have a different answer. Sometimes the goal to maximize a project to produce a profitable endeavor is held back by constraints of a site, regulations governed by a city, or by defining what an end user may consider acceptable and comfortable.
One of the biggest constraints comes from parking.  As much as we would like to think that we are living in a public transit and carshare world, the facts are that most users in retail, hospitality, office tenants and multi-family possess an automobile.  As such designing a project in a city as dense as the Greater Denver area can be quite challenging.  Exacerbating the issue is the skyrocketing cost of land itself, as well as, the cost of materials and labor.
ZONING & REGULATIONS FOR PARKING
So…how can you maximize a site with rentable or leasable square footage and still cover the zoning requirements for parking?  Well, you can hopefully take advantage of zoning parking reductions by utilizing reductions based on bike parking, carshare or mass transit corridors.
The Denver Zoning Code allows for reductions in parking beyond minimum requirements, but with the caveat that there will be a review by the Denver Zoning Department and local representatives.  This process is known by the acronym ZPIN (Zoning Permit Review with Informational Notice [Section 12.4.2 DZC]).  Although this is a route that one may travel, it comes with a public review and often becomes quite contentious.
Frequently the answer is to park subterranean, but this can prove to be an extremely costly option.  Not only are there high costs to excavate and cost for additional shoring/foundation depth, but conditions below the surface may be less than ideal.
"…How can you maximize a site with rentable or leasable square footage and still cover the zoning requirements for parking?"
If the budget is firm and the need to maximize rentable/leasable sf is paramount, then the answer may be automated parking systems.  I am sure you have heard of them as they have been utilized in Europe and Asia for over 25 years.  The East Coast in the US has employed these for years as well.  Some of the companies that manufacture these systems are Automotion, Klaus Multiparking, Parkmatic, Jurassic Parking, and CityLift (OK, I made up Jurassic Parking, but the rest are all actual automated parking companies with fun names). All of these companies offer a similar lineup of automated parking options, but I have previously worked with CityLift so I will quickly explain their products.
CITYLIFT PARKING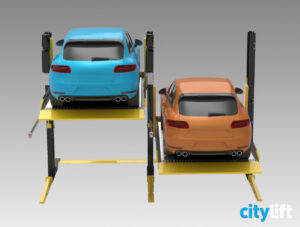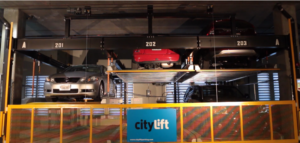 The simplest product they offer is the "Stacker."  It is a two-level max cost-efficient option but is much like a tandem space and requires the lower vehicle be moved to access the upper vehicle.  This product can be utilized in valet scenarios as well as private residences with limited space.  The only real advantage of this system vs the remaining options is that the height of the levels can be controlled manual to accommodate larger/smaller vehicles.  [20 second retrieval time]
The next system, which CityLift calls their most popular line is the "Puzzle" system.  Think of this as one of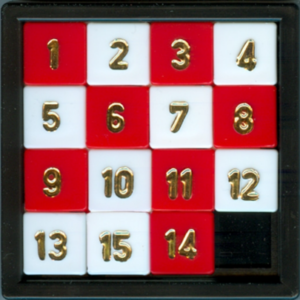 those puzzles with a single piece missing that allows you to circulate any piece around the entire puzzle.  The advantage of this system is that it allows anyone to access their car using a keypad.  It is a self-park and self-retrieval.  This system requires 11'-7 ¾" clear for 2 levels and can either be with or without pits and up to 7 levels tall.  This system is the one that I have experience with and costs roughly $12-15k per space. [33 second retrieval time]
AUTOMATED PARKING TOWER v. AISLE
The next two systems I will lump together as they are similar and are much more costly.  The "Tower" is as it sounds a vertical oriented shaft of car levels with a vehicular elevator.  Ideal for narrow spaces with room vertically.  The parking structure can double as building structure.  This system can grow up to 20 stories tall.  The "Aisle" system is versatile in the horizontal direction and can be utilized above surface retail to maximize frontage while still accommodating for parking.  Where these products are utilized in public use groups such as hospitality or retail an attendant would be highly recommended.  [120 second retrieval time]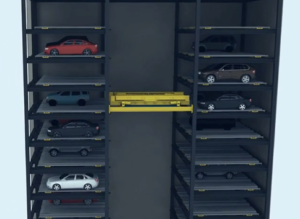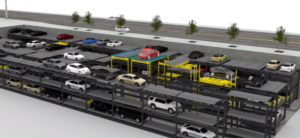 Citylift also offers options for storage in similar configurations that could be utilized in a variety of ways. Going back to the end user I am not sure if the wait would be too much of a hassle or if the cost outweighs the ability to maximize a site, but these types of automated systems can at least make maximization possible for restrictive sites.
At EVstudio finding solutions to these type of restrictions is what we are passionate about. Please let us know if your team needs a creative answer and feel free to check out our website for more information. Resources include: Parking Garage Construction Cost – Structured Parking, Pre-cast Parking Garage Solutions and Denver Off-Street Angle Parking Requirements for more information about parking.
MORE RESOURCES:
Automated Parking Systems | Puzzle Lifts | CityLift Parking
Other Companies:
Automotion Parking Systems – Robotic Parking / Car Stacking Systems Simple, efficient, profitable. It's that easy. (automotionparking.com)
Klaus Multiparking – KLAUS Multiparking Incorporated – car stacker, car stackers, double parking, Stack Parker, stacked parking system, car parking place, car parking system, car parking systems, car parking problem, car parking problems, Double Parker, (klaususa.com)
Parkmatic – More Parking in Less Space – Parkmatic
Robotic Parking – Products – Robotic Parking | Automatic Parking | Automated Parking