At a recent seminar I attended I was introduced to the Fab-Form product called FASTBAG. This product is brilliantly simple….a textile bag you can fill with concrete and reinforcing bars to take the place of the wood formwork traditionally utilized to construct pad footings.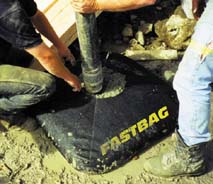 The bags come in multiple sizes designed to replace standard pad footing sizes. While the shape of the filled bag does not look like the traditional footing the contact patch and load path are designed to be identical to a square footing as illustrated below.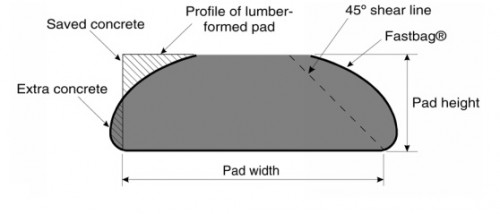 I admit I have not seen these bags used in practice and unless I come across a project that requires the use of multiple pad footings I am not certain they would pay off over traditional wood forms for new construction. However, I do a lot of retrofit structural design for residential repairs and remodels and I see that the FASTBAG would have a wonderful application in this arena. I have had many projects that require new concrete pad footings to be constructed in very close quarters such as crawlspaces. I can see this product being a considerable help to a contractor who needs to construct a footing deep inside a crawlspace with only 20" of clear space to maneuver in. Stay tuned to this blog for a follow up report on the real world application of this product.