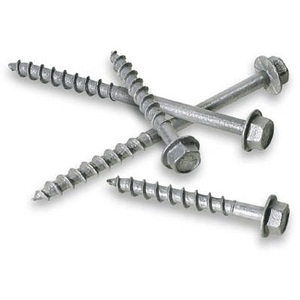 Simpson has recently brought a new product to market in the Strong-Drive (SD) screw. From the Simpson Strong-Tie website:
"Simpson Strong-Tie introduces the Strong-Drive SD structural-connector screw for use with our connectors. Designed to replace nails in certain products, the load-rated SD screw has been tested and approved for use in many popular Simpson Strong-Tie products. In certain applications screws are easier and more convenient to install than nails, and the single-fastener load values achieved by the SD9 and SD10 exceed those of typical 10d common or 16d common nails, respectively. In addition, the galvanized coating makes the SD screw ideal for interior and most exterior conditions.
The SD structural-connector screw features an optimized shank which is specifically designed to be compatible with the fastener holes in Simpson Strong-Tie connectors. The hex head virtually eliminates cam-out and helps avoid stripping of the head during installation. The sharp point of the screw enables fast starts, and the patented serrated threads reduce torque for improved drivability."
As a structural designer I like the idea of specifying these screws as replacements to the fasteners normally used with Simpson hangers in deck applications. Typically additional vertical load capacity is not needed in these hangers, but by the nature of their construction SD screws will provide additional withdrawal capacity. While the typical mode of failure on decks is through the ledger attachment I like the idea of the additional redundancy these screws will provide. Due to the usual height above ground and the social gathering nature of decks it is my professional opinion that this is an area that deserves a slightly more conservative design. A list of Simpson products that are compatible with the SD screw may be found here.